Wireless Could Arrive Soon in NYC Subway Tunnels
In the near future, you'll never have to be alone or unconnected with your phone, your thoughts or 250 passengers twitching with barely concealed rage on the rush-hour A Train in the New York City subway.
That's because Transit Wireless has advanced proposals to the MTA to start putting cellular and WiFi in the subway tunnels as part of a general extension of its existing wireless service, which currently covers 281 underground station platforms with wireless LAN and 4G LTE cell service. (See The Wireless Underground: NYC Subway Rollout Done.)
Tunnel coverage is on the mind of the NYC Metropolitan Transport Authority (MTA) right now with its Genius Transit Challenge. Transit Wireless is well placed to undertake such a project -- building on its existing infrastructure -- although exact timing of tunnel deployment would depend on when the MTA awarded an eventual challenge winner a contract.
Ahead of that, Transit Wireless and the MTA are examining WiFi in the more than 100 subway stations that run above ground in New York City. This is part of an effort to bring more broadband access to four NYC boroughs: Brooklyn, the Bronx, Manhattan, and Queens.
---
For all the latest news from the wireless networking and services sector, check out our dedicated mobile content channel here on Light Reading.
---
Mind-blowing as it may be to riders of the subway systems in Europe and Asia, the MTA mostly has no way of providing accurate timing of when any given train will arrive in a particular station on the elderly NYC subway system. Some stations on the L Line (between Manhattan and Williamsburg in Brooklyn) got countdown clocks when signal systems were updated, but mostly riders have been left in the dark.
Transit Wireless is putting in a system to try and alleviate this problem as much as possible. The company is putting up Bluetooth beacons on subway platforms that clock when a train enters and leaves a station, via the MTA bluetooth sensors on the front and back of the train. This information is sent via the Transit Wireless fiber network to the MTA servers, which estimate the arrival time at the next station, and shuttle that information back -- via the Transit Wireless network -- to countdown clocks on subway stations.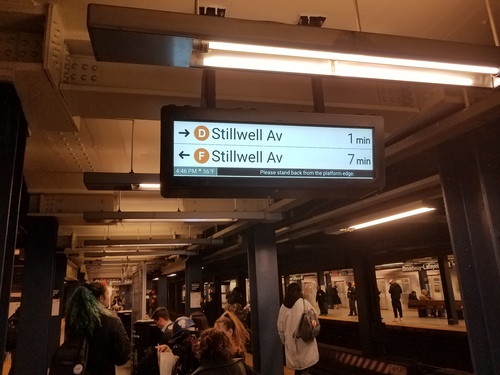 CEO Bill Bayne quipped Wednesday that Transit Wireless first started a "smart city" project before the term even existed. Transit Wireless started work on unwiring the subway in 2011. It has deployed 10,000 cell antenna nodes and 5000 WiFi access points, so far. The company has invested $350 million in the project, and has a 27-year contract to deploy and manage the wireless access network. (See Transit Wireless: Unwiring the NYC Subway.)
— Dan Jones, Mobile Editor, Light Reading
PARTNER PERSPECTIVES
- content from our sponsors