Who Makes What:

LTE Equipment

5/7/2009

Comment (18)

LTE is horribly complicated when viewed as part of a complete architecture, as it forms Release 8 of the ongoing 3GPP series of architectural and standards developments for wireless networks. These standards by now embrace a huge array of network functional entities and interfaces (including the massive Internet Multimedia Subsystem – see, for example, What's Up With IMS?), and, even though the LTE development aims at simplification, it has to interwork with, and build on, the accumulated debris of earlier releases. So a fundamental issue for a Who Makes What is to decide what LTE actually means in terms of network equipment.

Figure 1 suggests that a possible way to do this is to concentrate on what is new in the architecture, as this will translate into new or upgraded equipment. On these grounds, LTE affects principally two broad areas of the network (tinted green in Figure 1):


The radio access network
The packet core network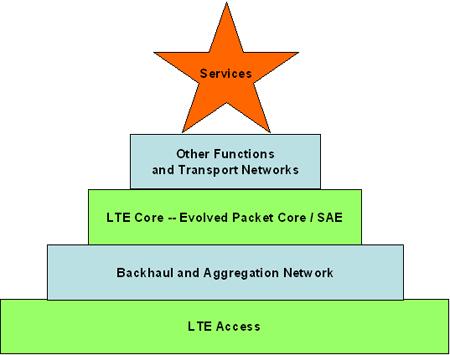 Figure 2
shows in a little more detail what this view of LTE equipment covers, and how it relates to some of the other network functions and access and transport networks involved in the earlier Releases of the 3GPP series. The main points are:
The earlier 2G and 3G Radio Access Networks (GERAN and UTRAN, respectively) are replaced by the new E-UTRAN (Evolved UTRAN/RAN). In particular, the 3G base-station NodeB is replaced by the new eNodeB.


The General Packet Radio Services (GPRS) core network, which supports both the 2G and 3G RANs, is replaced by a new Evolved Packet Core (EPC, but known also as System Architecture Evolution, SAE, when the new E-UTRAN and other access networks are included with it). This uses two new functional elements: the Mobility Management Entity (MME) node, which handles control signaling; and the SAE Gateway (which can be split into a separate Serving Gateway and a Packet Data Network Gateway), which handles traffic and the data-plane aspects.


There are lots of new interfaces, many of them with existing network functional elements, as LTE makes full use of these elements and interworks with non-3GPP access networks, for example. Thus the MME node uses the existing Home Subscriber Server (HSS), although this is now done through Diameter signaling rather than SS7. The use of Diameter here is significant because it means that all the interfaces in the LTE architecture are now IP ones.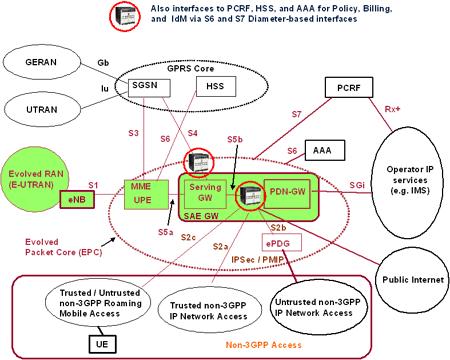 Although the 3GPP had many aims in developing LTE, a lot of them reduce to producing an architecture that can make mass-market ultrafast broadband services a commercial reality. So performance has to go up, costs have to come down, interfaces have to be open, and operations have to be simplified, to name only the most obvious.
Figure 3
, by making a comparison with 3G, illustrates some of the ways that the new architecture does this.
First, legacy ATM is dispensed with in favor of all-IP. Then the architecture is flattened and simplified by dispensing with the Radio Network Controller (RNC) – instead, the eNodeB connects directly to the SAE Gateway and the MME. Reducing the number of nodes involved in a connection improves scalability, performance, and cost-efficiency.
On the RF side, LTE introduces the use of Orthogonal Frequency-Division Multiplexing (OFDM) radio access and Multiple-Input Multiple-Output (MIMO) antenna technologies. Pure OFDM is used on the downlink from the base station to the terminal, and was selected for its cost efficiency in supporting the requirement for spectrum flexibility – from under 5MHz bandwidth to up to 20MHz, and for both Frequency-Division Duplex (FDD) and Time-Division Duplex (TDD) modes of operation. On the uplink from terminal to base station, LTE uses a special version of OFDM called Single-Carrier Frequency-Division Multiple Access (SC-FDMA), chosen for its lower power consumption, an important consideration for terminals.
Product classification
On the basis of these considerations, this Who Makes What classifies LTE products under five broad headings:
Access – the radio base stations and eNodeB equipment


Core – the new Evolved Packet Core nodes


Silicon, platforms, and subsystems – the new chipsets and other subsystems or devices needed to implement the LTE Access and Core equipment


Software and protocols – similarly for software and protocol stacks


Test and measurement – the new equipment needed by vendors and operators to test and monitor LTE Access and Core equipment


Here's what we're leaving out:
Terminals/CPE. These are obviously crucial and will be made in vast quantities, so their omission might seem surprising. But there is a simple reason – they don't really exist in the commercial-product sense yet. Yes, it's almost GSM all over again: The standards are done, the infrastructure equipment exists, but there is not much on the CPE side – and the first services are launching in the next 12 months or so. Of course, this will be rectified in time, but it is a useful corrective to the industry's tendency to overhype LTE's commercial mass-market readiness.

In the meantime, there are demonstration devices and early platforms and chipsets (some of which are mentioned in the following pages). Given LTE's high bandwidth capabilities and low latencies, and relatively limited early geographical coverage, most of the early CPE are likely to be data-type card dongles for laptops and netbooks, rather than flashy smartphones like the Apple iPhone.


Antennas. Although LTE brings new antenna technologies to mobile networks, these are not new per se – WiFi networks have used MIMO techniques for some time, for example – and arguably belong more to the general art of RF communications than to any specific application such as LTE. In the interests of manageability, they are thus omitted, but, for the record, relevant vendors include Ace Antennas, Cellmax Technologies, Motorola Inc. (NYSE: MOT),Powerwave Technologies Inc. (Nasdaq: PWAV), Radio Frequency Systems (RFS) , and Socowave.


Backhaul/aggregation equipment. This is another crucial part of any real LTE network, and doubtlessly will encourage specialist and optimized Ethernet/IP solutions because of LTE's wholesale move to IP and the need for new backhaul/aggregation to match the rollout of new LTE base stations (RAD Data Communications Ltd. , for example, is majoring on this application for its Carrier Ethernet pseudowire technology). But, again, this is arguably a new application of an existing art, rather than a new LTE equipment category.


Existing functional entities interfacing to EPC. The new interfaces between the EPC and entities such as the HSS, PCRF, AAA, and so on (see Figure 2) will obviously require vendors of products providing these entities to make changes. However, these are not specifically new LTE functional entities, and, as these products are very numerous, they are treated as beyond the scope of this Who Makes What.
Table 1
lists vendors against these five broad LTE product categories.
Table 1: Vendors of LTE Equipment
Vendor
Access
Core
Silicon / Platforms / Subsystems
Software / Protocols
T&M
4M Wireless
Yes
ABIT
Yes
Aeroflex
Yes
Agilent Technologies
Yes
Alcatel-Lucent
Yes
Yes
Allot Communications
Yes
Altair Semiconductor
(Yes)
Altera Corporation
Yes
Analog Devices
Yes
Anite
Yes
Anritsu
Yes
Aricent
Yes
AT4 Wireless
Yes
AXIS Network Technology
Yes
Azimuth Systems
Yes
BitWave Semiconductor
Yes
Blue Wonder Communications
Yes
Catapult Communications
Yes
Cavium Networks
Yes
Cisco Systems
(Yes)
CommAgility
Yes
CommScope/Andrew
(Yes)
ComSys
Yes
Continuous Computing
Yes
Dyaptive Systems
Yes
ERCOM
Yes
Ericsson
Yes
Yes
Freescale Semiconductor
Yes
Fujitsu Network Communications
Yes
Yes
Gambit Communications
Yes
Hitachi Communication Technologies
(Yes)
(Yes)
Huawei Technologies
Yes
Yes
IntelliNet Technologies
Yes
Yes
IPWireless
Yes
(Yes)
(Yes)
Keithley Instruments
Yes
Kineto Wireless
Yes
LG Electronics
Yes
Lime Microsystems
Yes
LNT Infotech
Yes
Yes
LSI Corporation
Yes
MimoOn
Yes
Yes
Motorola
Yes
MYMO Wireless Technology
(Yes)
NEC
Yes
Yes
NetHawk
Yes
Nokia Siemens Networks
Yes
Yes
Nomor Research
Yes
Nortel
Yes
Yes
Panasonic Mobile Communications
Yes
Percello
Yes
picoChip
Yes
Polaris Networks
Yes
Powerwave Technologies
Yes
Prisma Engineering
Yes
Qasara
Yes
Yes
Qualcom
Yes
Radiocomp
Yes
Rohde & Schwarz
Yes
RMI
Yes
Samsung Electronics
Yes
Yes
Sandbridge Technologies
Yes
Sanjole
Yes
Setcom Wireless
Yes
Signalion
Yes
Sonus Networks
Yes
Spirent Communications
Yes
Starent Networks
Yes
ST-Ericsson
Yes
Stoke
Yes
Tata Consultancy Services
Yes
Yes
Tecore Networks
Yes
Tektronix Communications
Yes
Texas Instruments
Yes
Yes
Traffix Systems
Yes
Yes
Ubidyne
Yes
Wavesat
Yes
WiChorus
Yes
Wintegra
Yes
Yes
ZTE
Yes
Yes
Parentheses indicate products planned or in development.
Source: Light Reading, 2009
Next Page:
LTE Access

(18) |