Sprint Corp. (NYSE: S) and High Tech Computer Corp. (HTC) (Taiwan: 2498) have revamped their EVO brand with a new flagship smartphone that will support 4G Long Term Evolution (LTE) when the operator launches that network later this year. (See Sprint Unveils HTC Evo LTE.)

Sprint CEO Dan Hesse described the HTC EVO 4G LTE as the "gold standard" at the launch event in New York City on Tuesday. "It's the next stage in our evolution," he quipped.

Click on the image below to see a few scenes from the launch event.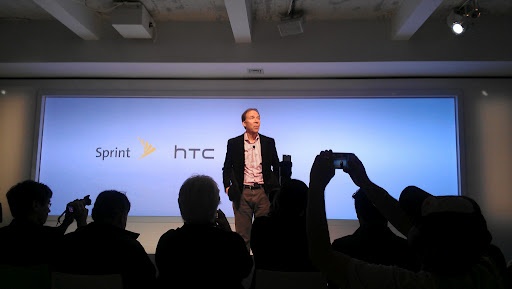 The device is Sprint's second announced smartphone to support its new LTE network, promising data speeds even faster than the 3Mbit/s to 5Mbit/s average downloads offered over its WiMax network. (See Sprint Bites Into LTE Phones Ahead of Network .)

With no WiMax support included, however, early users of the new EVO will be defaulting to Sprint's slower 3G CDMA network a lot to begin with. Sprint has so far only announced that it plans to have LTE in 10 cities to begin with. (See Sprint's First 10 LTE Markets Coming by Mid-Year.)

Hesse said that Sprint will have more news about further LTE launches soon. Sprint hopes to cover up to 120 million potential customers with its LTE service by the end of 2012.

Another notable feature of the device is "HD Voice," a technology that uses two microphones in the phone and noise-cancelling software to make actual voice calls (remember them?) clear. Sprint, however, didn't go into much technical detail about this feature at the launch.

The new EVO will be available for pre-order on May 7. It is priced at US$199.99 with a two-year contract.

For more



— Dan Jones, Site Editor, Light Reading Mobile