After years of courtship, it looks as though Sprint and T-Mobile could eventually tie the knot, with a merger announcement expected imminently. But while we wait for the two operators to sort out the nuptial details, I felt now would be a good time to share my thoughts on what a merged Sprint and T-Mobile would look like.
On paper, the new entity might seem like a merger of equals, allowing them collectively to match the power of AT&T Inc. (NYSE: T) and Verizon Communications Inc. (NYSE: VZ). But from a network perspective, there is definitely a dominant player in this relationship. Sprint Corp. (NYSE: S) and T-Mobile's network future will essentially be a realization of T-Mobile's vision for mobile broadband.
Farewell to CDMA
First off, Sprint's CDMA network will almost certainly land on the scrap heap. CDMA is a dying technology, and operators worldwide have now traded in their CDMA infrastructure for UMTS/HSPA networks to conform to what has become the de facto standard for 3G. When the time comes for Sprint and T-Mobile US Inc. to unify their 2G and 3G services under a single technology, T-Mobile's GSM and HSPA system will win out.
You need only look at the history of the US telecom industry to see this same scenario played out. When AT&T bought Leap Wireless in 2014 and T-Mobile acquired MetroPCS in 2013, both acquirers shut down the CDMA networks of the operators they bought, re-farming their spectrum for new 4G services.
Deciding on a 2G/3G strategy would be the least of Sprint or T-Mobile's concerns, however. Neither operator needs more 2G or 3G capacity. Their focus today is on 4G, which is why sunsetting Sprint's CDMA network would be such an appealing move.
Within Sprint's CDMA network is nearly 40MHz of spectrum that a merged company could use to build an entirely new high-capacity LTE network, rivaling the one that T-Mobile has already deployed nationwide. The new mega-operator could use a technique called LTE-Advanced carrier aggregation to bond these two 4G networks together.
Sprint and T-Mobile could then strengthen that network by adding to the mix the new 600MHz frequencies it recently acquired during a government auction. The result would be a network that could support theoretical peak speeds of 300 Mbit/s across the country, reaching 450 Mbit/s in certain cities.
Granted, those numbers can be misleading, as consumers will only experience a fraction of a network's theoretical peak speed on any given day. But these kinds of network upgrades would definitely have an impact on customer experience. T-Mobile's average LTE connection speed could easily double, while Sprint's could more than triple.
In our last State of Mobile Networks report for the US, OpenSignal tracked T-Mobile's average 4G download speed at 17.5 Mbit/s and Sprint's at 9.6 Mbit/s. On the global stage, however, all four US operators are slower than operators in the vast majority of countries in which we track 4G speeds.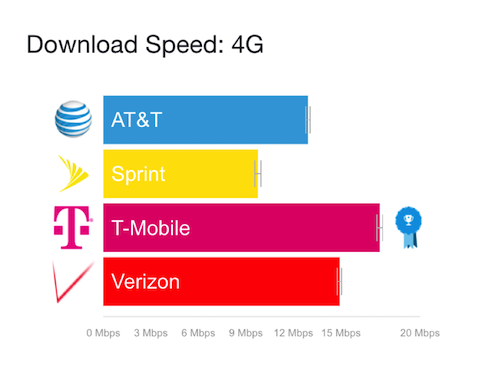 Indeed, in our most recent State of LTE report, OpenSignal found that the average LTE connection in the US was just 15 Mbit/s, while most European and East Asian countries averaged connections in excess of 25 Mbit/s. But the new Sprint and T-Mobile network would go a long way to closing that gap between the US and its global peers on mobile broadband speeds.
What about TD-LTE?
The uncertainty about this merger is the new operator's plan for Sprint's current LTE network. Today most of Sprint's 4G capacity comes from a variant of LTE technology called Time-Division-LTE (TD-LTE), which runs over the 2.5GHz spectrum band.
Sprint owns enormous quantities of spectrum in this band, and for the last two decades has been promising to build an extremely high-powered network on those airwaves. However, technical, logistical and financial hurdles have prevented it from realizing this vision.
The question is whether Sprint and T-Mobile doubles down on Sprint's TD-LTE effort, building yet another high-power, high-capacity system. The new operator could alternatively decide to sell off 2.5GHz spectrum to the highest bidder. What is certain is that Sprint and T-Mobile will have to sell off some of their spectrum if they want their merger approved.
Even though the current US administration seems friendlier to telecom consolidation than its predecessor, the Sprint and T-Mobile tie-up will trigger regulatory and antitrust reviews from the Federal Communications Commission and the US Department of Justice. And those agencies will inevitably demand that Sprint and T-Mobile divest some of their spectrum holdings.
Potential buyers of that divested spectrum could include Verizon and AT&T. By merging, Sprint and T-Mobile would put themselves in much stronger competitive and network positions. But their deal could benefit their biggest rivals too.
— Brendan Gill, co-founder and CEO, OpenSignal