Sprint Corp. (NYSE: S)'s Network Vision strategy includes deploying a Long Term Evolution (LTE) network as early as the first quarter of next year, according to a CNET report Tuesday. (See Sprint's Many Possible Flavors of LTE.)

The carrier has been installing LTE equipment and field testing the network in preparation for a commercial launch by the end of the first quarter or early in the second, the publication reported. Sprint had no comment on the report, but it's possible the carrier is speeding up its LTE migration as it faces increasing 4G competition from Verizon Wireless and AT&T Inc. (NYSE: T) in the U.S. (See What is Sprint Playing at With 4G?) Check out the chart below for its rivals' LTE deployment progress and projections.

Table 1: Population Covered with LTE in the U.S.

Verizon Wireless
AT&T
Sprint
Present
160 million
Undisclosed; 5 markets
Reportedly in field tests for LTE
End of 2011
185 million
70 million
End of 2012
200 million
170 million
End of 2013
285 million (match 3G footprint)
250 million
Network Completion
2014
2018: 97.3 percent of U.S. population (with T-Mobile)
Source: Verizon Wireless, AT&T, CNET




Sprint may want to move fast on LTE to keep up, but also to accommodate all the players in its multi-modal network. Partner LightSquared , for one, has to reach its goal of 100 million potential subscribers in the U.S. by the end of 2012. And Clearwire LLC (Nasdaq: CLWR), which Sprint owns most of, needs more funding to survive. (See LightSquared: We're the Good Guys, Sprint's $13.5B Jump to LTE With LightSquared, Sprint Confirms LightSquared Deal, Losses Grow and Clearwire Goes It Alone With Faster 4G.)

In addition, Sprint is likely to repurpose its iDEN 800MHz spectrum for LTE, as well as use the G-Block 700MHz it acquired from Nextel for the network. The carrier has previously said it plans to shut down the iDEN network by 2013, and has cleared it of push-to-talk subscribers, who will be moved to the CDMA network next week. (See Sprint to Launch Direct Connect on Oct. 2 and Sprint Ready to Leapfrog to Multi-Mode.)

If this is the case, then looking at its coverage map for the Nextel technology could provide a helpful snapshot of Sprint's LTE deployment targets.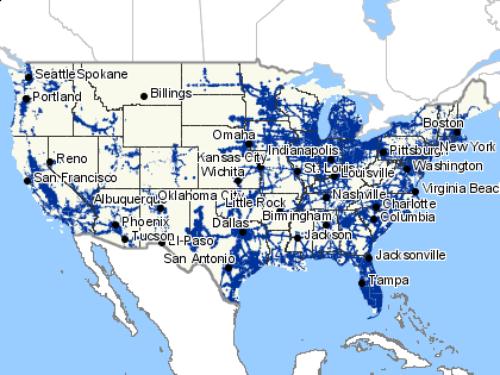 Sprint will hold its Network Vision strategy meeting on Oct. 7, at which time it should reveal more on how it will manage all its disparate networks as it migrates to LTE. (See What Will Sprint Reveal of its 4G Plans? and Sprint's Strategy Meeting Isn't So Mysterious.)

— Sarah Reedy, Senior Reporter, Light Reading Mobile