Sprint Corp. (NYSE: S) unveiled another step of its "Network Vision" on Monday via a new site detailing when and where it will remove its iDen towers as it prepares to shut down the Nextel network.

Possibly tipping off some of Sprint's Long Term Evolution (LTE) launch plans, the site, at https://nextelnetwork.sprint.com/, lets iDEN customers learn when Sprint will be cutting down on Nextel towers in their towns. The site reads:


Sprint is in the process of reducing the number of Nextel towers and making other network modifications around the country. Sprint CDMA coverage will not change due to these actions.


Its iDEN coverage map, shown below, appears about as dense as it was last September, but the carrier is well on its way to shutting it down by 2013, moving its push-to-talk customers to CDMA in the process.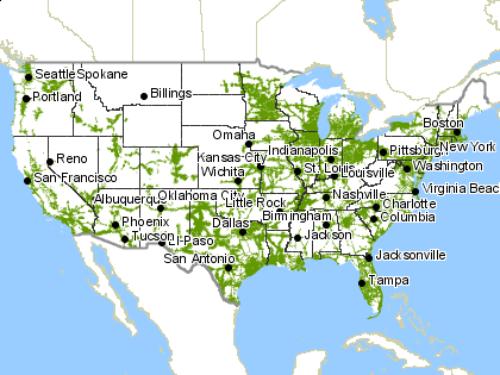 Why this matters
Sprint is likely repurposing its iDEN 800MHz spectrum for LTE, as well as using its PCS 1900MHz G block spectrum for its multi-mode 4G network. That means that where it shuts down iDEN could hint at where -- and when -- it will launch LTE first.

Sprint has already promised to have 11 LTE markets up and running by mid-year, with most situated in Texas -- places where Sprint happens to be removing iDEN towers. For example, its three big Texas markets -- Dallas, Houston and San Antonio -- also show that network modification work will begin in late May. The maps may not be a sure-fire indicator, however, as New Orleans starts in late February, San Francisco in late April, New York City in late May, Chicago in early June, and Miami in late June.

Even if it's not a 4G treasure map, the progress indicates that Sprint is moving along with Network Vision and sticking to its deadlines, even if its partners are struggling to do so. (See Sprint Gives LightSquared 'Til Mid-March.)

For more
Read up on Sprint's Network Vision. — Sarah Reedy, Senior Reporter, Light Reading Mobile