MetroPCS Looks to Video Chat Across Networks
NEW YORK --
MetroPCS Inc.
(NYSE: PCS) isn't content to be the first carrier in the U.S. -- and possibly the world -- to offer voice-over-LTE (VoLTE). Now the operator wants to move toward simplifying 4G video and multimedia messaging, starting this fall.
MetroPCS executives said this Tuesday that they expect to introduce initial Rich Communication Services (RCS) by the time the leaves start to turn. Initial offerings will include simultaneous video and Web browsing on the phone and a network address book.
RCS is a
3rd Generation Partnership Project (3GPP)
standard designed to give carriers a set protocol to allow users to communicate across networks in talk, video or text. Put another way, RCS interoperability could do for the popularity of video chat what breaking down the SMS walls did for text messaging in the U.S. in 2003.
This would give third-party video chat providers limited to their registered user-base something to think about.
It means, however, that while MetroPCS can push ahead with RCS, it can't do it alone. "In the standards bodies, U.S. carriers have rallied round ... the RCS-5 standard," said Ed Chao, SVP of network and operations at MetroPCS, while admitting that there are still issues to be ironed out.
Chao expects
AT&T Inc.
(NYSE: T) and
Verizon Wireless
to launch RCS services "in the first quarter" of 2013.
Meanwhile, a 4G LTE offer
MetroPCS was chiefly on hand to reveal its latest bid to get more people to sign up for its
Long Term Evolution (LTE)
service in 14 markets across the U.S. The carrier is offering an
LG Electronics Inc.
(London: LGLD; Korea: 6657.KS) phone for US$149 and an unlimited data plan for $55 a month, contract free. The savings mount up if you buy a second phone and more data on a family plan.
Click on the photo below for more details and views of the latest phones from MetroPCS.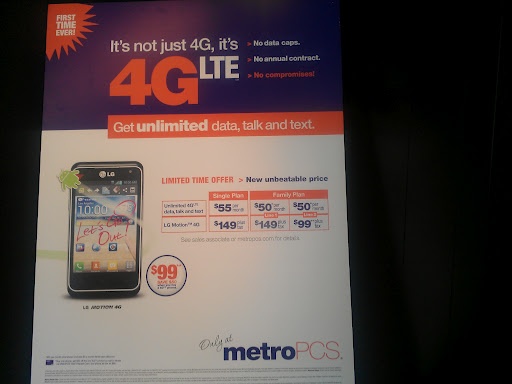 — Dan Jones, Site Editor,
Light Reading Mobile
PARTNER PERSPECTIVES
- content from our sponsors