NOON -- Only 1 in 20 subscribers will benefit from Long Term Evolution (LTE)'s fast speeds and increased capacity by 2015, according to Juniper Research Ltd. 's latest study. Or, read another way, 300 million people globally will have access to LTE by 2015(!).

So is that positive progress or cause for concern for the 4G technology?

It probably depends on where you are looking and when. As Juniper notes, LTE network commitments are at an all-time high, far outpacing competing WiMax plans. In North America, where Verizon Wireless , AT&T Inc. (NYSE: T), MetroPCS Inc. (NYSE: PCS), and others have announced deployment plans, it is closer to 1 in 5 subscribers that will benefit. Other regions of the world aren't being that aggressive yet.

To date, there are only 500,000 LTE subscribers in the world, but that's because most operators haven't yet started their commercial launches. That's also why most of the growth won't come until after 2012, Juniper says. In the US, Verizon is in the midst of trials now and is on track for a fourth-quarter launch of 25 to 30 networks, while AT&T isn't planning on making any moves until 2011.

The US, combined with Western Europe, the Far East, and China, will together account for 90 percent of the LTE market by 2015.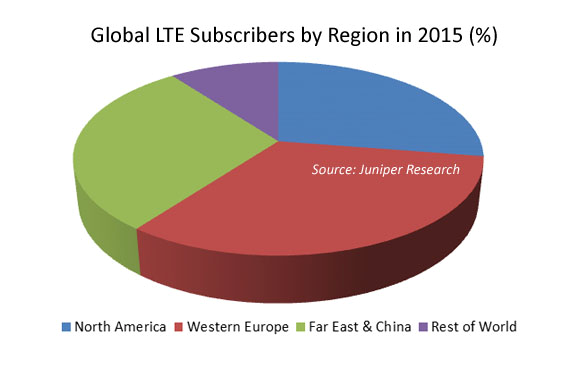 For more evidence of LTE's potential -- and a few areas of concern -- check out Light Reading's coverage of the 4G tech from the past week alone:

— Sarah Reedy, Senior Reporter, Light Reading Mobile