Now that the U.S. has some real Long Term Evolution (LTE) competition, wireless device testing vendor Metrico Wireless Inc. is pitting Verizon Wireless 's network against AT&T Inc. (NYSE: T)'s to find out how smartphones perform on each.

The results suggest that the carriers are on par with one another in most measures and, more importantly, that both deliver on the promises of 4G with data rates at five times as fast as 3G network.

Metrico compared the Samsung Corp. Droid Charge, Motorola Mobility LLC Droid Bionic and High Tech Computer Corp. (HTC) (Taiwan: 2498) Thunderbolt on Verizon's LTE network to the HTC Vivid and Samsung Galaxy S II on AT&T's network.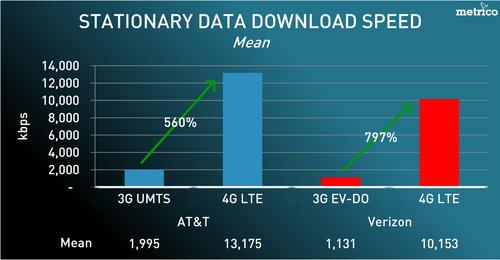 Even with the vast size and subscriber differences between AT&T and Verizon LTE, the differences between the two weren't that significant. The five devices showed similar levels for stationary data downloads and Web page loading times on 4G, but vastly improved over 3G networks. For AT&T, the mean stationary data download speed was 560 percent faster than on 3G and 797 percent faster for Verizon. Web page load time improved as well, 85 percent faster for AT&T and 80 percent for Verizon's LTE network. (See AT&T Hits 15 LTE Markets, Adds Another Tablet and Verizon Sells 1.4M LTE Devices in Q3.)

Video quality disparities
The differences that Metrico did observe were in video performance on the device, and Metrico VP of Marketing Amit Malhotra says that has more to do with the device than the network. For example, the phone with the highest frame delivery rate was the Droid Charge and the lowest was the Droid Bionic, both Verizon phones.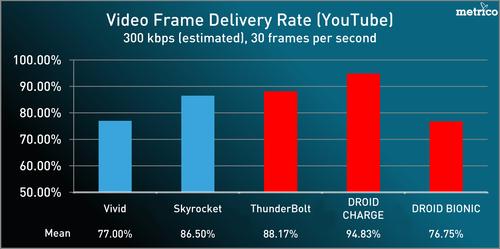 In some cases, Malhotra says, 3G video quality may even appear better than 4G because the video is adjusted to the screen and bandwidth available. And, while it's great that LTE is delivering on the data speed increases it promised across both carriers, when the networks are created equal, consumers will start to judge them on other factors like video quality and battery life.

"It was surprising there was that much variation in the performance of video across devices," he says. "The iPhone 4S study showed little variation across networks whereas, for this, it is not just the network, but more so the device. We see a lot of variation whereas the specs of the devices are increasingly similar."

One theory: MIMO woes
Indeed, all five devices tested included a dual-core processor, high-end still and video cameras, large high-res displays and the Android operating system, but each one performed differently. Metrico says that the video processor and rendering software on board each could be to blame, but network testing vendor Spirent Communications plc suggests a different theory: that multiple input and output (MIMO) antennas greatly affect video performance.

About 50 percent of today's LTE devices' data performance is dependent on the gain from MIMO antenna techniques, according to Nigel Wright, Spirent's VP of wireless. MIMO uses multiple antennas on both the base station and the device to achieve those fivefold data increases for LTE. At the same time, however, Wright says MIMO is also very sensitive to how the antennas are implemented, the environment in which the device is being used and the orientation of the device itself.

"This means that a small change in the position of the device when in use can result in significant change in data rate," he writes in an email to LR Mobile. "For example, the user experience of a streaming video could go from excellent to marginal or poor just because the device was moved slightly during use."

MIMO may also be responsible for battery drain, which Metrico found was especially problematic with streaming video. Spirent's Wright says that for MIMO to provide maximum gain, the antennas should be spaced at least half a wavelength apart. For Verizon's 700MHz LTE spectrum, that means about 200mm apart, a width much larger than most smartphones.

"As a result, creative approaches have to be used to implement MIMO antennas in smartphones, data dongles and other mobile devices where small size is a consideration," Wright says. "This can lead to design compromises that affect performance."

— Sarah Reedy, Senior Reporter, Light Reading Mobile