5G may be getting all the attention these days, but LTE is still going strong. Fresh stats out this week indicate that LTE is gaining momentum across the globe and, while North America has lost its top slot for LTE connections, its 4G speeds are improving.
According to 4G Americas , the trade group representing 3rd Generation Partnership Project (3GPP) standards, there were nearly half a billion connections worldwide at the end of 2014. The group commissioned analyst firm Ovum Ltd. to study LTE's growth and found that North America made up 33%, or 164 million, of the total 498 million LTE connections worldwide.
While North America was the first mover on LTE, it lost its top slot to Asia-Pacific, which surpassed it around mid-year, with 233 million LTE connections. In Asia, however, only 10% of total connections are on LTE, compared with North America at 40% and Western Europe at 13%. (See Nearly 500 Operators Make the 4G Pledge.)
According to the Global Mobile Suppliers Association (GSA) , which also released LTE figures this week corroborating 4G Americas' findings, North America was the second-largest LTE market at the end of 2014 with 33% of global subscriptions, down from 42.3% in mid-2014, while Europe's share of connections grew from 14.3% to 16% over the same period. (See LTE to Cover Half the Globe by 2017 – GSMA.)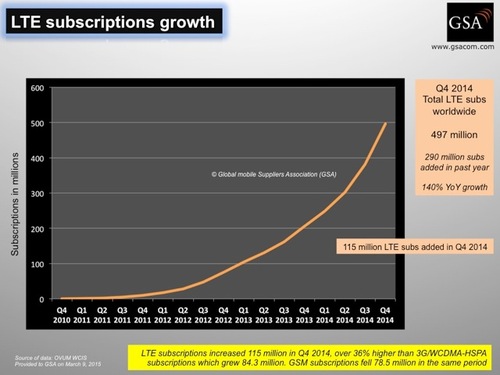 ---
For more on mobile networks, check out the dedicated 4G LTE content channel here on Light Reading.
---
In the US, nearly half of the population, 49%, is now using LTE, but 94% have access to it, Ovum found -- encouraging numbers that suggest LTE is no longer confined to major cities and is making its way to rural America. (See Rural Carriers: SoftBank Will Fund Your LTE and Rural Telcos Urged Into 600MHz Auction.)
Another report from coverage trackers OpenSignal indicates that speeds are getting faster in the US as well. This time last year, the US had average download speeds of 6.5 Mbit/s, and they are now approaching 7 Mbit/s. In 2013, the average download speed was 9.6 Mbit/s, but networks are much more overloaded now, with US subscribers spending 77% of their time on LTE, up from 67% last year. (See Vodafone UK Downplays 4G Need for Speed.)
Spain performed the best for download speeds, at 18 Mbit/s, but South Korea was the clear winner for best LTE network performance in terms of speed and coverage, according to OpenSignal's findings. (See OpenSignal: T-Mobile's LTE Is Fastest.)
Rounding out the global picture, 4G Americas says that LTE is currently deployed on 367 networks in 121 countries. The GSA expects that to grow to 450 commercially launched LTE networks by the end of 2015. Both see LTE-Advanced taking off as well. Ovum says this is currently live on 54 networks in 35 countries, and predicts that by 2020 nearly 60% of all LTE subscriptions will be on LTE-Advanced networks. (See LTE-A Now Live on More Than 20 Networks and Why You Should Care About LTE-Advanced (Eventually).)
— Sarah Thomas,

, Editorial Operations Director, Light Reading