China's Huawei has confirmed that sales rose nearly a third in 2016 buoyed by double-digit growth across its carrier, enterprise and handset businesses.
But after several years of equally impressive growth in profits, Huawei's bottom line hit the buffers in a sign that conditions are getting much tougher for the world's biggest maker of network equipment.
As the company had indicated in a preliminary earnings statement earlier this year, overall revenues rose 32%, to as much as 521.6 billion Chinese yuan ($75.7 billion), as Huawei Technologies Co. Ltd. extended its market lead over long-suffering rivals Ericsson AB (Nasdaq: ERIC) and Nokia Corp. (NYSE: NOK). (See Huawei's Network Sales Up Around 32% in 2016.)
When it came to profits, however, Huawei registered no meaningful improvement, reporting net income of about RMB37 billion ($5.4 billion), roughly the same as in 2015.
That is a dramatic turn of events considering that net profits have grown by about a third in each of the preceding three years. Adding to the impression that Huawei is being forced to work much harder for sales growth was a slowdown at the operating profit level: The Chinese vendor's operating margin shrank to 9.1% last year from 11.6% in 2015. Back in 2013, it was as high as 12.2%.
Moreover, the just-published annual report shows that expenses rose sharply in 2016. Huawei coughed up about RMB76.4 billion ($11.1 billion) in R&D costs, roughly 28% more than in 2015, and spent around RMB86.4 billion ($12.5 billion) on sales and administration, an increase of nearly 39% on the 2015 figure.
All of this comes after acting CEO Eric Xu complained at the start of the year that Huawei's operating efficiency and cash flow had seen little improvement. In a New Year message, Xu promised to cut down on "empty and extravagant marketing events and conferences," and said the company needed to avoid "blind optimism and rhetoric about Huawei as an industry leader." (See Is Huawei in for a Bumpy 2017?)
More recently, Xu has warned the industry that Huawei's growth prospects in core markets are no longer as dazzling as they used to be. During a conversation with Light Reading at this year's Mobile World Congress, acting CEO Eric Xu admitted that Huawei's carrier business, which accounts for 56% of company revenues, would grow at a much lower rate in the next five years. "Even a 10% [annual] growth would be a stretched target to work on," he said. (See CEO Interview: Huawei's Eric Xu.)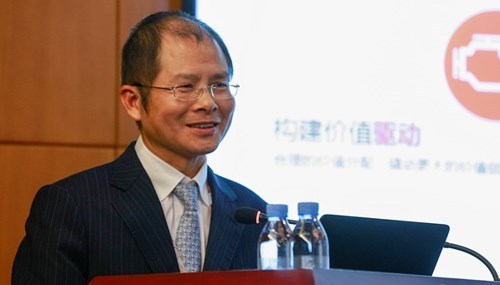 He remains confident, however, that Huawei can grow both its enterprise and handset businesses at annual rates of about 30%.
As a result, Huawei believes that, within five years, it can boost its annual revenues to as much as $150 billion -- twice the level achieved in 2016. (See Huawei Targets Revenues of $150B Within a Few Years.)
---
For all the latest news from the wireless networking and services sector, check out our dedicated mobile content channel here on Light Reading.
---
So how did each of the businesses get on in 2016? Huawei's annual report shows that sales at the carrier business were RMB290.6 billion ($42.2 billion), up nearly 24% (a figure that remains way above Xu's five-year forecast). Revenues from the relatively small enterprise business, meanwhile, rose about 47%, to RMB40.7 billion ($5.9 billion), while those from handsets grew nearly 44%, to RMB179.8 billion ($26.1 billion).
The slowdown that Xu anticipates in the carrier networks market is one that Börje Ekholm and Rajeev Suri, the respective CEOs of Sweden's Ericsson and Finland's Nokia, would recognize: Both companies reported a sales decline of about 10% in 2016 and expect their main addressable markets to shrink this year. (See Loss-Making Ericsson Still Short on Vision and Nokia Upbeat on Turnaround Despite Sales Decline.)
Admitting that Ericsson has been losing market share, Ekholm this week announced plans for a downsizing of the Swedish vendor's business in the hope of restoring competitiveness. But his much-anticipated strategy update was short on detail, and Ericsson is even more dependent than Huawei on the networks business, generating about three quarters of its revenues from that market last year. (See Ekholm's Vision of Slimmer Ericsson Lacks Detail & Dazzle.)
Recent developments have not been encouraging. In December, Ericsson was reported to have lost a contract to China's ZTE Corp. (Shenzhen: 000063; Hong Kong: 0763) to manage the Italian mobile networks of Russia's VimpelCom Ltd. (NYSE: VIP) and Hong Kong's Hutchison, which are merging their operations. VimpelCom is also said to have terminated a networks contract with Ericsson in Russia, opting to use Huawei instead.
Although Ericsson is refusing to comment on the specifics, it has acknowledged that "negative customer developments" will cost it up to $1 billion in the current quarter. (See Ericsson Tightens Focus, Warns of $1.7B Q1 Hit.)
— Iain Morris,

, News Editor, Light Reading