Also in today's finely tuned EMEA regional roundup machine: Vodafone avoids corporation tax; will Trump dent the Privacy Shield?; think tank targets BT's dominance; ZTE in German tie-up.
Nokia Corp. (NYSE: NOK) is to demonstrate how drones can be used to set up an instant LTE network to provide the connectivity required by first responders' rescue operations. The demo will take place at the Drones for Good (not to be confused with Bikers for Christ) show in Dubai, which starts today, and is intended to show how drones can stream video and other sensor data in real time from the site of a disaster to a control center over an LTE network. The network uses Nokia Ultra Compact Network, a portable basestation that Nokia says is small enough to fit into your average backpack.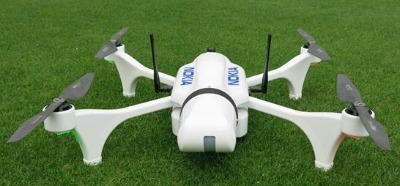 Vodafone Group plc (NYSE: VOD) managed to cut its UK tax bill by around 20% in the last financial year after its pre-tax loss of £486 million (US$603.9 million) excused it from having to pay corporation tax, the Financial Times reports (subscription required). The figures were included in a report that the operator compiles to help fend off the sort of criticism that it has received in the past about it being less than fully transparent in its tax matters. (See Euronews: Vodafone Tax Deal Revealed and Euronews: Vodafone Talks Tough on Tax.)
His administration may indeed be a finely tuned machine, but President Trump's executive order seeking to clamp down on illegal immigration into the US could have ramifications for the so-called Privacy Shield arrangements that currently govern the transfer of personal data from Europe to the US. According to Reuters, EU privacy watchdogs fear that the exemption of non-US residents from the "protections of the Privacy Act regarding personally identifiable information" could drive a coach and horses through the data pact, and they say they will write to the US authorities "pointing out their concerns and asking for clarifications on the possible impact of the Executive Order." Good luck with that. (See Eurobites: Trump Won't Trash Privacy Shield, US Officials Predict and Eurobites: Privacy Shield Gets EU Go-Ahead.)
In other politically charged shenanigans, the UK's right-wing pressure group, the Centre for Policy Studies, has used its latest Economic Bulletin to warn of BT Group plc (NYSE: BT; London: BTA)'s domination of the mobile market, pointing out how BT/EE now controls 45% of the UK's available mobile spectrum. It believes that regulator Ofcom 's proposed cap on spectrum holdings is "so high that it will not tackle the problem of mobile phone providers owning exclusive rights to spectrum but not using it," and it fears that the lack of any constraints in the 5G auction could allow BT to acquire all of the 5G-comptible spectrum and "put it in an even more dominant position in the mobile phone market, adding to its disproportionate influence in the broadband market with its ownership of BT Openreach."
China's ZTE Corp. (Shenzhen: 000063; Hong Kong: 0763) is making further inroads into the European market with the signing of a partnership with NetCologne , a regional network operator in the greater Cologne-Bonn area of Germany. The pair plan to collaborate on projects involving GPON and G.fast.
Norway's Telenor Group (Nasdaq: TELN) has partnered with Google (Nasdaq: GOOG) to roll out Rich Communications Services (RCS) to Telenor's subscribers in Europe and Asia, Reuters reports. Subscribers would gain access to RCS services automatically through an app update, Google said.

— Paul Rainford, Assistant Editor, Europe, Light Reading