China Unicom and China Telecom have announced a strategic cooperation agreement that will cover the sharing of network equipment and should help them stand up to market leader China Mobile in the country's fast-growing 4G sector.
In a statement published on their websites, the operators said the multi-faceted arrangement would help to reduce costs and provide better networks and services to customers.
Besides speeding up network deployment and bolstering service quality, the tie-up also seeks to improve the international roaming experience through coordinated outreach to overseas operators.
China Unicom Ltd. (NYSE: CHU) and China Telecom Corp. Ltd. (NYSE: CHA) have also indicated they will together promote a new "six-mode" smartphone standard that will support different technologies.
This would allow smartphone developers to produce a single version of a product for all of China's operators instead of catering to specific requirements.
Shares in both operators received a boost from the announcement in Hong Kong, with China Unicom's stock closing up 3.84% and China Telecom's ending the day 4.52% higher.
Both players have struggled to close the huge 4G gap with China Mobile Ltd. (NYSE: CHL) -- whose own share price rose by 2.45% today in Hong Kong -- despite last year receiving licenses to use the FDD variant of 4G, which they prefer to the TDD system on which China Mobile is largely reliant.
In November, China Mobile claimed to serve about 287 million 4G customers and had more than 825 million mobile subscribers on its books altogether. (See China Mobile's 4G Roll.)
Neither China Unicom nor China Telecom breaks out details of 4G customers. Last November, the former had 287 million mobile customers, 180 million of whom were using 3G or 4G services, while China Telecom's mobile customer base of 197 million included 141 million users of 3G or 4G.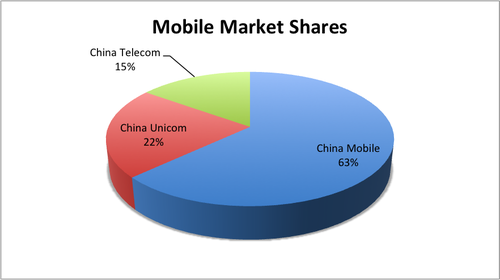 Analysts cited in the Financial Times (subscription required) reckon the deal announced today could lead to capital expenditure savings of between 30% and 40% for the new partners and reduce their operational spending by up to 50%.
The announcement is also fueling speculation about the possibility of a full merger between China Unicom and China Telecom following recent industry upheaval.
In August, the two operators exchanged chairmen, with Chang Xiaobing moving from Unicom to Telecom and Wang Xiaochu moving the other way. (See All Change in China? )
But Chang Xiaobing's tenure at Telecom was short-lived: In late December he was forced to resign his position after coming under investigation for disciplinary violations. (See China Telecom CEO Steps Down.)
That suggests that Wang Xiaochu may have been the architect of the strategic cooperation agreement.
---
Want to know more about 4G LTE? Check out our dedicated 4G LTE content channel here on Light Reading.
---
All three of China's national players have also announced plans to pool about $34.5 billion of assets in a new networks business that is similarly intended to support a more cost-efficient rollout of mobile broadband services. (See Telcos pool $34.5B of assets in China Tower.)
Unveiled in October, that scheme will see an entity called China Tower take control of all telecom towers and related assets currently owned by the three service providers.
China Mobile is set to control 38% of China Tower once the transaction has gone through, with China Unicom holding 28.1% and China Telecom 27.9% of the new-look business.
What remains unclear is how the latest arrangement -- the details of which are currently scanty -- will square with the China Tower scheme.
— Iain Morris,

, News Editor, Light Reading