With Dish Network LLC (Nasdaq: DISH) putting up $1 billion for a distressed hybrid satellite/terrestrial firm, Charlie Ergen & Co. is in a position to accumulate a swath of spectrum that, some analysts estimate, will rival what Sprint Corp. (NYSE: S) and T-Mobile US Inc. control today.

But what does Ergen intend to do with it all? Rev up a plan to offer mobile broadband services? Video? Voice? A combination? Or will he just hoard it for a while as the value of all that spectrum builds up and then unload it at a handsome premium to operators that could use it the most, such as T-Mobile, Leap Wireless International Inc. (Nasdaq: LEAP) or MetroPCS Inc. (NYSE: PCS)?

Dish and its corporate cousin, EchoStar Corp. LLC (Nasdaq: SATS), aren't saying anything about those plans at the moment, but speculation is running rampant after Ergen agreed to fork over big bucks to buy bankrupt DBSD North America Inc. DBSD, which counts as a creditor, has been developing hybrid satellite and terrestrial systems. (See Dish Puts Up $1B for Bankrupt DBSD.)

But it's that deal that has set speculation about Dish's wireless plans into overdrive.

According to a report from BTIG Research Analyst Walter Piecyk, the primary asset of DBSD is a 20MHz block of spectrum in the S-band. That capacity could fit in nicely with another 20MHz of spectrum in the same band Ergen is in the process of getting as he tries to seize control of TerreStar Networks, another bankrupt company that happens to have its own satellite. It's speculated that those blocks are close enough that Dish and EchoStar could support them together.

When the 700MHz spectrum that Ergen already owns is factored in, "he will control as much spectrum as Sprint and T-Mobile," Piecyk notes.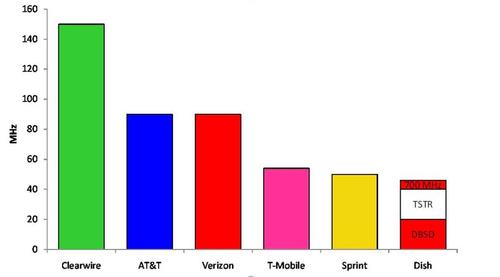 Charlie's next move
So what will Dish do? The popular speculation by Piecyk and other analysts is that the company may, as LightSquared just did, try to obtain a Federal Communications Commission (FCC) waiver to use DBSD spectrum to offer terrestrial services, though it may have to forfeit some capacity to the feds just to get it. As it stands, DBSD's spectrum use is limited to satellite services. (See LightSquared Grabs More Spectrum, Customers and FCC Lets LightSquared Pass 'Go'.)

"The logical path would be to seek a waiver from the FCC to offer terrestrial-only services which would enable a number of different sale and partner agreements," the BTIG analyst wrote.

But, he adds, no one appears willing to rule out that Dish might decide to construct a costly 4G wireless network. Short of that, a company that's flush with spectrum might make an attractive acquisition target for Verizon Communications Inc. (NYSE: VZ) and AT&T Inc. (NYSE: T).

Yet another possible scenario envisions Ergen combining his S-band spectrum with LightSquared and its Long Term Evolution (LTE) project, and perhaps netting an equity stake in exchange. Piecyk warns, however, that Dish's spectrum might conflict with the lower frequency L-band deployment LighSquared has been pitching to potential wholesale customers.

— Jeff Baumgartner, Site Editor, Light Reading Cable