CES 2011: HTC 4G Phones for All!
10:20 AM -- LAS VEGAS --
2011 International CES
--
AT&T Inc.
(NYSE: T) has been lagging behind its competitors in the move to
Long Term Evolution (LTE)
--
or
is it just planning a sneak attack?
An ad in
Rolling Stone
suggests the latter may be the case. The ad (below) depicts
High Tech Computer Corp. (HTC)
(Taiwan: 2498)'s lineup of 4G phones, including the unannounced HTC Inspire 4G for AT&T. The ad also features the still-unannounced HTC Thunderbolt, expected to be unveiled by
Verizon Wireless
this week. (See
MetroPCS Continues 4G Price War
and
Sprint Shifts to Next WiMax Phone
.)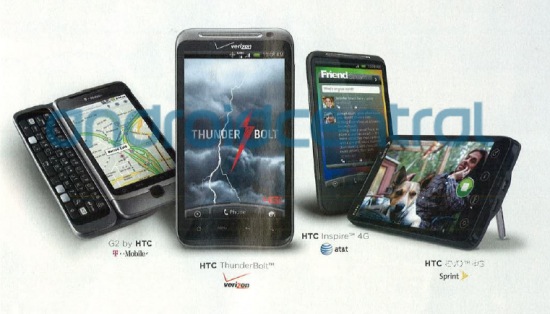 Of course, considering AT&T's LTE network isn't due out until mid-2011, it could just be stealing a page from
T-Mobile US Inc.
and labeling an HSPA+ phone as 4G, or
FauxG
. The ad doesn't make that clear.
Light Reading Mobile
is off to AT&T's Developers Conference, where the carrier is expected to detail its LTE plans, now. More updates soon.
— Sarah Reedy, Senior Reporter,
Light Reading Mobile