CTIA 2010:

Where's Carrier Support for 3G iPad?
LAS VEGAS --
International CTIA WIRELESS 2010
-- There's around a month until the launch of Apple's 3G-capable iPad, but, just a week before the WiFi version arrives, there's yet no word (in public, at least) of multi-carrier support for the Mac-maker's preferred "microSIM" format for its new tablet.
The WiFi-only Apple iPad will go on sale in the US on April 3. A version that supports both WiFi and 3G cellular is due later the same month. (See
Apple Opens iPad Pre-Orders
and
Apple Sets iPad Launch Date for April 3
.)
So far, however, only
AT&T Inc.
(NYSE: T) has said it will support the newer and smaller microSIM format that Apple is using in its latest device. Apple has said that the device is "unlocked" and can be used by GSM carriers around the world.
Publicly, however, carriers aren't stepping up to be counted.
Light Reading Mobile
has several times asked
T-Mobile US Inc.
if it will support the iPad and microSIM, getting either no reply or a non-committal answer. The reticence makes some sense on T-Mobile's part, since the radio onboard the current iPad doesn't support its faster 3G network, only EDGE. (See
Will the Apple iPad Crush 3G Networks?
)
Nonetheless, the 3G iPad is slated for a staggered global launch, so the lack of European GSM support might be seen as surprising.
LR Mobile
has heard a suggestion that
Salt SA
might be looking to work with the new gadget, but there is no solid evidence of that yet.
Subscriber Identity Module (SIM) card manufacturers are certainly ready to meet the demand if it arises. Check out
Gemalto
's microSIM-inside-a-SIM display from its booth at CTIA, pictured below: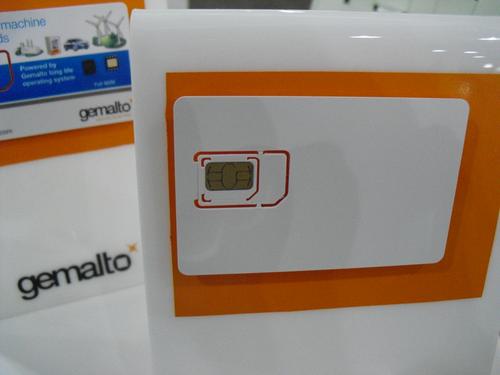 It even appears that if users are handy with a pair of scissors, they could create their own mini-SIM cards, since both regular and mini-SIMs use the same-sized chip.
HEALTH AND SAFETY NOTICE:
Light Reading Mobile
suggests, however, that you only attempt that with adult supervision, and accepts no liability if you scr*w up your SIM card (or cards). And remember -- no running with scissors.
OK, back to the story...
Perhaps,
like AT&T
, other carriers tend to believe the iPad is more likely to be mainly used in a WiFi setting than on 3G. Certainly, some
Apple watchers
have their own theories about why Apple went for the microSIM: Namely, that it prevents AT&T iPhone users from popping their existing SIM cards into the new tablet and getting on the 3G network.
— Dan Jones, Site Editor,
Light Reading Mobile
PARTNER PERSPECTIVES
- content from our sponsors