T-Mobile's Ray updates his 5G 'layer cake' analogy one last time
Roughly five years after first debuting the concept of a "layer cake" to explain T-Mobile's 5G strategy, the operator's top networking executive added one last tweak to the concept this week.
And, not surprisingly, he did so to highlight his company's 5G progress against its competitors AT&T and Verizon.
"What you really want is a slice all the way through the cake," said T-Mobile's Neville Ray in comments this week at an investor conference.
Specifically, Ray explained that T-Mobile's latest announcement of achieving a four-carrier aggregation data call on its network is the technological equivalent of cutting a slice out of a layered cake. Meaning, carrier aggregation technology essentially glues together transmissions in disparate spectrum bands in the same way a slice of a cake combines multiple layers.
Slicing and dicing
"The richness of the feature set that we bring is second to none," Ray said.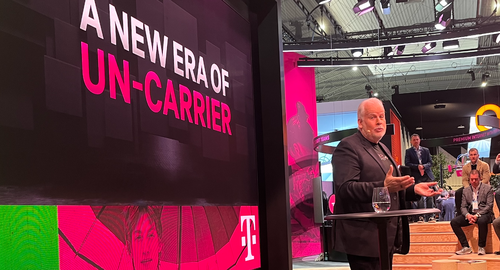 During the recent MWC trade show in Barcelona, Spain, Ray announced that T-Mobile's standalone (SA) 5G network was able to support 3.3 Gbit/s speeds by using carrier aggregation technology that combined transmissions in four of its spectrum bands: two in the 2.5GHz range and two in the 1900MHz range. In total, the transmission glued together a total of almost 225MHz of spectrum across the four different bands.
"That's like taking four separate highways and turning them into a massive superhighway where traffic can zoom faster than before. Customers with the Samsung Galaxy S23 will be among the first to experience four-carrier aggregation later this year with more devices to follow," the company wrote in a release.
Carrier aggregation technology was first introduced in 4G networks, though few operators have applied it to early 5G networks. More will likely do so in the months and years ahead.
During his appearance this week at an investor conference, Ray explained that T-Mobile is working to put a wide range of spectrum bands into play in 5G, including its newly purchased C-band and 3.45GHz holdings as well as the PCS and AWS spectrum bands it currently uses in its 4G LTE network. Ray said that T-Mobile is already refarming its PCS spectrum for 5G, and will add AWS spectrum into the mix later this year. And he said T-Mobile would deploy its C-band and 3.45GHz spectrum "where we need to for capacity reasons."
He also noted that T-Mobile holds a substantial amount of millimeter wave (mmWave) spectrum. Ray reiterated that the company would consider using that spectrum for fixed wireless applications, potentially via receivers installed on the outside of customers' homes, at some point in the future.
Broadly, Ray argued that T-Mobile's 5G efforts put the operator far ahead of its competitors, AT&T and Verizon. "I'm very comfortable with our capacity story," he said.
Eating his cake
At the 2018 MWC trade show in Spain, Ray publicly laid out T-Mobile's "layer cake" strategy for 5G. He explained that a true 5G network would use highband, millimeter wave (mmWave) spectrum in dense urban areas, midband spectrum in broad metropolitan areas, and lowband spectrum for nationwide coverage.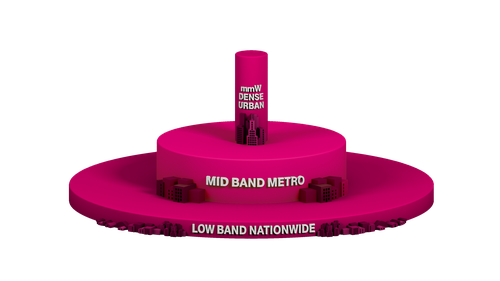 That "layer cake" strategy is so core to T-Mobile's 5G efforts that the company actually baked a real, three-layer cake to illustrate its plans. (To be clear, other operators have embarked on similar 5G deployment strategies, just with less delicious clarity.)
Over the years, T-Mobile has tweaked its cake analogy. For example, in 2021 the company introduced a cake with just two layers – lowband and midband – and replaced the top mmWave layer with eight candles, one for each city in which T-Mobile has deployed the technology.
Ray, for his part, recently announced he will retire from T-Mobile in the fall. Ray will be replaced by Ulf Ewaldsson, a former Ericsson executive who joined T-Mobile in 2019.
In his comments this week, Ray said he's basically been working on building T-Mobile's network since he joined Pacific Bell Wireless almost 30 years ago.
"That's a great way to wrap up almost a lifetime of a career building this network. And so not sure what comes next, nothing for a little while. That's the main thing for me. I need to relax and decompress from the years of building out this network at a phenomenal pace," he said.
Related posts:

— Mike Dano, Editorial Director, 5G & Mobile Strategies, Light Reading | @mikeddano
UPCOMING LIVE EVENTS
June 6-8, 2023, Digital Symposium
June 21, 2023, Digital Symposium
December 6-7, 2023, New York City
All Upcoming Live Events
PARTNER PERSPECTIVES
- content from our sponsors