AT&T's Mansfield touts midband 5G, but downplays standalone 5G
MWC23 – AT&T's midband 5G rollout started later and in a lower gear than either T-Mobile or Verizon's, but 2023 should see the carrier approach cruising speed on those fast frequencies.
That forecast-as-sales-pitch came from AT&T's Gordon Mansfield, vice president for global technology planning, network planning and engineering, during a meeting at the recent MWC Barcelona trade show.
But while the carrier expects 2023 to be a breakout year for its C-band and 3.45GHz-3.55GHz spectrum, deploying standalone 5G and FWA 5G remain lower-order bits for the Dallas company.
During a 30-minute conversation, Mansfield also discussed AT&T's partnership with Microsoft for network management and how it does not equate to the carrier putting all of its bets on the cloud.
Coming soon in more places: C-band and 3.45
AT&T lit up its C-band spectrum last January alongside Verizon but in far fewer places, and it's since made much less noise about taking its midband service beyond those first eight markets as well as its subsequent deployment of 3.45GHz frequencies. AT&T waited until November to update its coverage maps to highlight this faster coverage in dark blue.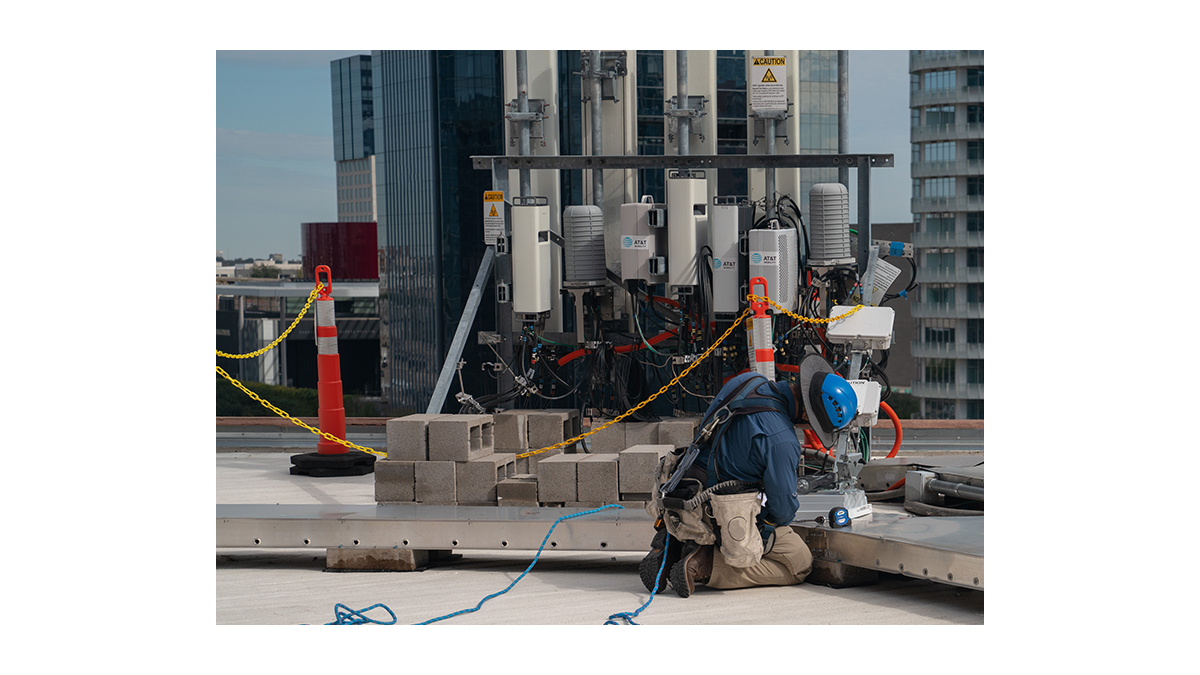 Mansfield suggested that things will change by the end of 2023, saying the carrier is "in good shape" to hit its goal of covering at least 200 million people with midband by then.
In particular, AT&T expects to get clearance from the Federal Aviation Administration (FAA) by the end of the year to light up the C-band near airports, ending an imbroglio that led AT&T and Verizon to wave off those deployments while the aviation industry worked to patch and upgrade radar altimeters that the FAA felt could suffer interference from the C-band.
"We pretty much have a path between what we've done and what the avionics industry has done," Mansfield said.
That, he said, should also free up AT&T to expand the C-band beyond the 46 Primary Economic Areas (PEAs) allowed in the initial deployment of the C-band.
"We can pretty much by the end of this year get to use our licenses beyond those 46," he continued. "And in that same time frame, I will not have a material impact related to any airports."
The picture looks more complicated for AT&T's 3.45GHz spectrum, because of spectrum-coexistence rules attached to the spectrum that AT&T bought for $9 billion in a January 2022 FCC-run auction.
For example, AT&T's top government regulators won't be able to enjoy its 3.45GHz near their offices because of "restrictions with some military applications," he said in response to a question about midband service around Washington. "That's why it's a major metro that we haven't been able to turn on."
AT&T, however, plans to press on with an aggressive tower upgrade program that has it hanging separate C-band and 3.45 GHz radios simultaneously instead of waiting for dual-band radios: "Our strategy is when we are putting equipment on the tower, we are actually putting both bands up at the same time."
Things that can wait: mmWave, SA, FWA
Major geographic expansion, however, isn't in the cards for the millimeter-wave (mmWave) frequencies that AT&T introduced back in 2018 as its first flavor of 5G. Instead, the carrier is using mmWave as a capacity enhancer in such high-traffic venues as stadiums and arenas.
"We're using mmWave in our dense, hotspot types of location," Mansfield said. "Anywhere there's a high density of subscribers that are all wanting to use high-bandwidth applications, the millimeter wave makes sense."
For most subscribers looking to use high-bandwidth applications in their own homes, meanwhile, AT&T continues to see its own fiber as the answer – not fixed wireless access (FWA).
"We've got the greatest amount of fiber of anybody in the US," Mansfield said. "When you get into your urban and suburban areas, we believe fiber is a better broadband solution."
He questioned the ability of fixed wireless to scale to meet demand, saying of T-Mobile's FWA ambitions: "They're going to struggle without access to a whole lot more spectrum than we see in the pipeline."
That does leave rural FWA on the map, as well as AT&T's new venture into business fixed wireless. "We will have a hybrid strategy," Mansfield said.
Standalone 5G, another development that T-Mobile has championed, also looks like more of an enterprise option for AT&T.
"When you think about standalone 5G from an enterprise perspective, that's the only use cases that are out there right now," he said. And AT&T doesn't see the upside there for customers relative to risks to call quality: "It does not give us the reliability that our customers really, really want."
Azure aspirations
Earlier Tuesday, AT&T had a supporting role in Microsoft's headline MWC event – a sales pitch that went on over three-plus hours for its suite of Azure-based management tools for carrier networks.
AT&T put its cards on Microsoft's hyperscaler vision in a 2021 announcement, and AT&T executives at the Microsoft event voiced their continued confidence in that approach.
"We realized that there's a lot we can do together," said Igal Elbaz, AT&T's senior vice president and network CTO. He commended Microsoft's leaning into automation as a notion that any carrier should want to adopt: "It's critical to the success of any large-scale network."
Mansfield echoed those thoughts as well as Elbaz's other point, that AT&T is taking advantage of the options Microsoft's architecture allows to run its management tools on premises instead of in Azure data centers.
Or in Microsoft's phrasing, "where you want to place it is up to you," as Yousef Khalidi, corporate vice president for Azure for Operators, explained.
"We're able to license that for our solution that remains on our prem," Mansfield said. "For network payloads, we firmly believe from a resiliency perspective, that we've got to maintain control over the assets that are critical to our network."
He said AT&T isn't closed to other hyperscalers, saying "Do we engage and talk to all of them? Yes, we absolutely do." But Mansfield emphasized that the road ahead for core network management goes through Microsoft: "That's the path that we're on."
– Rob Pegoraro, special to Light Reading. Follow him @robpegoraro.
PARTNER PERSPECTIVES
- content from our sponsors