Microsoft is turning up the competitive heat on Slack, providing a new version of Teams that's free for up to 300 people.
Slack is the latest in a long line of specialized products that challenged Microsoft Corp. (Nasdaq: MSFT)'s hold on office applications and unified communications. Slack is group chat software for business, launched in 2013, which currently boasts 8 million daily active users, in 500,000 organizations including 65 companies in the Fortune 100. If you listen to a lot of tech podcasts, you'll get sick of hearing about Slack, but the program's enduring appeal is that it makes companies less reliant on traditional email and the standard Microsoft Office Suite.
Microsoft launched Teams, which is similar to Slack, in 2016. But Slack still had a powerful competitive advantage -- a free version that let small organizations and teams use Slack at no cost, and then graduate up to the paid version when they needed new capabilities. (See Microsoft Attacks Slack, Slack Whacks Back .)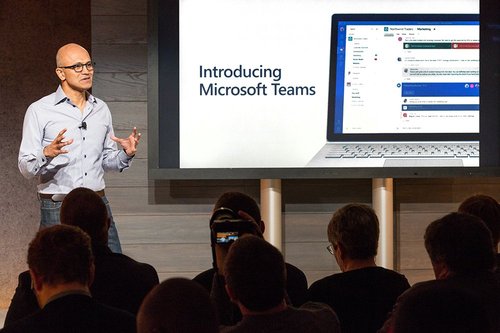 ---
Now entering its fifth year, the 2020 Vision Executive Summit is an exclusive meeting of global CSP executives focused on navigating the disruptive forces at work in telecom today. Join us in Lisbon on December 4-6 to meet with fellow experts as we define the future of next-gen communications and how to make it profitable.
---
Microsoft pushed back by touting its integration with Office, Skype, SharePoint and other products. Still, it's hard to beat free.
Now, Teams also has a free version too.
Both free collaboration suites have limits. In addition to the 300-user limit, the free Teams supports up to 2 GB file storage per user, up to 10 GB per team. And it lacks support for features available in paid versions of Teams – which require Office 365 – such as integration with Word, Excel, PowerPoint, OneNote, SharePoint, Planner, Yammer and more, as well as Exchange email hosting and custom email domains, and meeting recordings.
The free Slack version doesn't have a limit on the number of users, but it does have limits on search, going back 10,000 messages – Microsoft search is unlimited. Free Slack offers 1:1 video calls, while the paid versions support group calls with screen sharing. And the highest-cost, Plus tier of Slack supports integration with enterprise services such as user provisioning and de-provisioning and SAML-based single-sign-on. (See Slack Makes Big Enterprise Push.)
Microsoft also teased upcoming features for Teams, including background blurring for video chats, which means I'll never have to do anything about the stack of empty Amazon and Zappos boxes in my home office.
Collaboration software is a competitive market; in addition to Teams and Slack, other popular offerings include Cisco WebEx (formerly Spark), Atlassian HipChat, Facebook WorkPlace and Salesforce Quip. (See Atlassian Goes 'All In' on Amazon Cloud and Quip Wants to Kill Email Attachments.)
Related posts:
— Mitch Wagner




Executive Editor, Light Reading