CenturyLink Builds New Brand
CenturyLink Inc.
(NYSE: CTL) is hardly new to the post-acquisition game of rebranding its targets, or even creating a new brand. But in assimilating Qwest, CenturyLink is launching a major campaign not only to establish the company in its new local-service territories, but also to develop national awareness of its brand.
That's why we're seeing efforts as diverse as this 12-story sign in downtown Phoenix and a more standard series of national TV and radio spots establishing CenturyLink as a broadband service provider.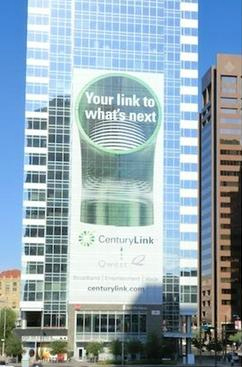 The gigantic sign is one of a kind and reflects CenturyLink's local market strategy in its new footprint, which includes four states new to the carrier: Arizona, North Dakota, South Dakota and Utah.
The biggest challenge is to firmly establish "CenturyLink in the minds of people who hadn't heard it before," says Tony Davis, CenturyLink's vice president of brand management.
Working with advertising agencies, branding agencies and multiple media placement agencies, CenturyLink developed market-specific strategies in keeping with its approach to local service, Davis says.
"Absolutely, our advertising is tailored to each area," Davis says. "One of the key responsibilities of placement firms as well as the agency is to determine what advertising should look and feel like in Phoenix versus Seattle."
CenturyLink's local-area sales and support staff gave their input as well. The company isn't saying how much all this is costing.
The carrier started with a campaign alerting the market that Qwest was becoming CenturyLink. That was followed by another campaign saying Qwest now
is
CenturyLink, coinciding with the completion of sign and logo changes on buildings, vehicles and other branded items.
Those branded items included what's now CenturyLink Field, where the Seattle Seahawks "
play
" football; multipurpose arenas in Boise and Omaha that now also bear the CenturyLink moniker; and the Louisiana stadium that was once labeled CenturyTel.
(One Seattle sportswriter is suggesting the stadium may soon be
nicknamed "CLink."
)
All of that activity was all followed by the national effort to establish CenturyLink's brand via national TV commercials and an NPR sponsorship, among other things.
Key to that effort is establishing CenturyLink as a broadband service provider, not a telephone company, and certainly not as a telco with rural Louisiana roots. CenturyLink is stressing its broadband services -- voice, data and video -- and its business offerings. In most Qwest markets, the video piece will be through partner
DirecTV Group Inc.
(NYSE: DTV), although CenturyLink does plan to roll out its Prism IPTV service where it's technologically feasible to do so over Qwest's FTTN network. (See
CenturyLink Will Bring IPTV to Qwest-Land
.)
"We are repositioning the company as a new kind of broadband player," Davis says.
— Carol Wilson, Chief Editor, Events,
Light Reading
PARTNER PERSPECTIVES
- content from our sponsors