8:05 AM -- When Apple Inc. (Nasdaq: AAPL) sees enough potential in an application to spend a rumored $200 million or more acquiring it, it's probably an app worth checking out. (See Small Bites for Apple.)

The software powerhouse acquired Siri, its iPhone voice-powered personal assistant app, last week, leading to speculation that it's not the app that has it excited -- it is the potential to launch a voice-powered search offensive against Google (Nasdaq: GOOG).

The details: Siri is a free iPhone-only app. The company has developed an Android app as well, but that will presumably remain on the backburner now. Using speech-to-text, the app lets users search for information related to restaurants, movies, events, local business, or weather, to name a few options, with the goal of booking things while on the go or voice-Tweeting their plans.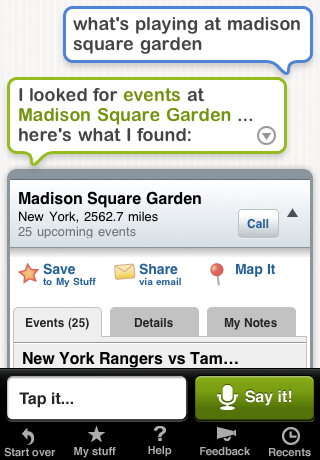 Why it stands out: Powered by Nuance Communications Inc. (Nasdaq: NUAN), Siri is simple, yet effective. It doesn't search the whole world of the Web, as Google does, but provides action-oriented results for users to book travel, make a reservation, or order a taxi. The hands-free nature of the personal assistant service makes it easy to use while mobile, and from my experience, Nuance's technology does a fairly good job of interpreting commands.

Siri's future: A Siri spokesman said that now that all its employees are part of Apple, he couldn't comment on the app. But people are interested in learning what Apple will do with it. Most believe that Apple doesn't care so much about the app, it cares about mobile search. Voice-activation only makes search more interesting, but even on the iPhone, that's a market that Google owns today.

Siri board member Norman Winarsky suggested to blog ZDNet that the app could also be useful to verticals such as healthcare, retail, and call-center operations, as well as across more Apple devices than just the iPhone. Apple could also use it to track your mobile ways and how you spend your time, creating a virtual personal assistant that begins to get real personal.

— Sarah Reedy, Senior Reporter, Light Reading Mobile