NOON -- Planning a night on the town? Don't forget your calculator. BBC News explains it all:


Scientists believe they have worked out a formula to calculate how "beer goggles" affect a drinker's vision.

The drink-fuelled phenomenon is said to transform supposedly "ugly" people into beauties - until the morning after.

Researchers at Manchester University say while beauty is in the eye of the beer-holder, the amount of alcohol consumed is not the only factor...

Nathan Efron, Professor of Clinical Optometry at the University of Manchester, said: "The beer goggles effect isn't solely dependent on how much alcohol a person consumes, there are other influencing factors at play too.

"For example, someone with normal vision, who has consumed five pints of beer and views a person 1.5 metres away in a fairly smoky and poorly lit room, will score 55, which means they would suffer from a moderate beer goggle effect..."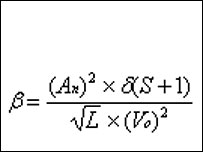 A formula rating of less than one means no effect. Between one and 50 the person you would normally find unattractive appears less "visually offensive".

Non-appealing people become suddenly attractive between 51 and 100. At more than 100, someone not considered attractive looks like a super model.
— Larry, Super Model, Light Reading