The manufacturing industry has a history of embracing innovations designed to improve efficiencies, quality, and worker safety. Consider the impact Henry Ford made by bringing the assembly line to auto manufacturing, creating previously unheard-of efficiencies. Today, manufacturers are using newer tools like robotics, machine learning and artificial intelligence to achieve similar goals. However, they still need to push these innovations further to stay ahead of their competition. One of the most promising new innovations for manufacturers is private 5G network services. The top driver of 5G adoption, according to a recent Manufacturing Institute report, is to improve quality control monitoring throughout the production process. More than half of manufacturers surveyed say that increasing machine productivity will drive 5G adoption and more than 90 percent believe it's critical to the future of their business.
Additionally, 91% of manufacturers indicate that speed of 5G deployment will have a positive impact on their ability to compete globally. Integrating 5G throughout systems and processes will define global competitiveness in the decade ahead.
But why do manufacturers need 5G to be competitive? According to an Accenture report, 5G-enabled factories experience productivity gains of about 20-30 percent including up to 50 percent in assembly time, 20 percent in asset life, and 90 percent in defect detection.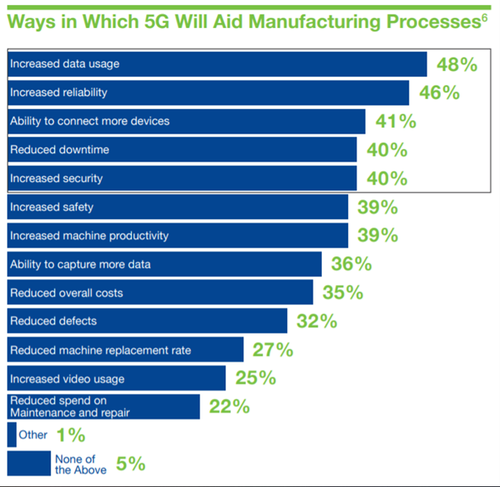 In addition to 5G, manufacturers are implementing Artificial Intelligence (AI)-driven tools to increase efficiency and quality in their assembly lines. For example, several major automotive companies have begun using AI technologies in their manufacturing processes, resulting in upwards of 15 percent efficiency gains, a significant improvement in an area where thin margins depend heavily on efficiency.
These AI tools are made possible, in part, by connecting sensors and cameras for near-real time, closed-loop reactions. Since AI is meant to be a continuous learning function based on the data from these sensors, cameras, and things, reliable wireless connectivity is of paramount importance for enabling the rapid reconfiguration of assembly lines for model changes, making for a compelling use case for private 5G network services.
Unfortunately, most assembly lines today rely on wired connectivity to provide reliable speed and low-latency, so any product change requiring reconfiguration and rewiring can be expensive and time-consuming. This reconfiguring is a loss in productivity, causing downtime and driving up costs, consequently impacting profitability. What's needed is a form of "wireless fiber" connectivity.
5G technologies will provide the high-speed bandwidth and low latency to accomplish this, but what of the "ultra-low" latency and high resiliency? For that you need a private network delivering 5G capabilities. A belief that is widely shared throughout the industry – more than 90 percent of manufacturers expect to see wireless 5G leading to increased machine/workforce productivity that results in cost savings.1 Productivity derived from people and machines working better together, as efficiency gains will most often be tied to how well we connect and communicate. And for the convergence of Information Technology (IT) and Operational Technology (OT) to be successful, 5G needs to be integrated with existing systems, not just on top of them.
But remember, machines don't work alone. People are required to interact with and maintain complex technologies. Operational Technology (OT) needs to be able to connect to a private network quickly and securely from anywhere via an array of devices, some of which might use Wi-Fi. Wireless connectivity should then offer both cellular (4G/5G) and Wi-Fi working together seamlessly. Additionally, the private 5G network must not only integrate with an existing Wi-Fi network, but with all relevant data networks used by the business. Or in other words, no tech islands.
So, what does the right private 5G network solution include? More than just reliable, high-speed, low-latency connectivity. To maximize the return on investment private 5g needs to converge with existing access options (i.e., 5G, 4G, and Wi-Fi) and integrate with existing IT and OT networks. Adding private 5G to your network needs to be simple and intuitive to operate with advanced automation capabilities for mitigating complexities. A converged, integrated private network using advanced automation can be the missing catalyst that elevates industrial efficiency and productivity to the next level resulting in real profit growth. The Cisco private 5G network is offered as a service that is simple to start, intuitive to operate, and trusted to perform. Cisco brings more than 35 years of experience and leadership in enterprise and service provider networking, IoT, security, managed services, and collaboration. Take a moment to learn more about how Cisco private 5G can transform your business.
Citations:
1. CONNECTING MANUFACTURERS WITH THE FUTURE: How 5G is Transforming the Manufacturing Landscape https://www.themanufacturinginstitute.org/wp-content/uploads/2021/03/Manufacturing-Institute-5G-study.pdf
2. Accenture report: https://www.accenture.com/us-en/insights/high-tech/5g-economic-impact
3. Ford's Ever-Smarter Robots Are Speeding Up the Assembly Line by Wired, April 28, 2021, https://www.wired.com/story/fords-smarter-robots-speeding-assembly-line/
— Dan Kurschner, Senior Product Marketing Manager, CISCO
This content is sponsored by CISCO.