Luca Martini, Level 3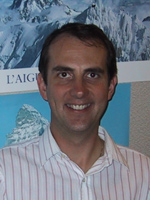 There's all sorts of talk these days about carriers wanting to roll out
converged
backbones – ones that make use of
Multiprotocol Label Switching (MPLS)
to carry all services over a single
Internet Protocol (IP)
network.
A key element of this concept involves the creation of Layer 2 MPLS virtual private networks (VPNs) to support legacy services that generate big revenues for telecom operators, such as Frame Relay and
Asynchronous Transfer Mode (ATM)
, and to support newer services such as
Ethernet
LAN interconnect.
In nearly every case, the technology that makes this possible is based on "Draft Martini," an Internet Draft from the
Internet Engineering Task Force (IETF)
whose primary author was Luca Martini, a senior architect with
Level 3 Communications Inc.
(Nasdaq: LVLT).
Level 3 itself has pioneered the use of the Martini draft in its own network. While other network operators have talked about using an IP backbone to offer legacy services, Level 3 has actually been doing it for a while – and proving that Luca Martini's Draft delivers the goods.
The fact that Level 3 has been such a pioneer might explain why Warren Buffett, the Wall Street investment guru, bought $100 million of the company's distressed bonds last year, saving it from likely bankruptcy. Although Level 3 isn't out of the woods yet, it appears to be on the road to recovery.
If you didn't know better you might mistake Martini for the late Andy Kaufman. But be assured that Luca is definitely
not
Latka.
This Italian-born engineer is one of the most well respected members of the IETF – not only because of his eponymous Draft, which has become the
de facto
standard among equipment vendors, but because of his work on several other Drafts within the Pseudo Wire Edge-to-Edge (PWE3) working group in the IETF.
Light Reading
caught up with Martini at Level 3's headquarters in the foothills of the Rocky Mountains. During our chat, he dished the dirt on the IETF, came clean on virtual private LAN services (VPLS), and told us how he really stands in the Layer 2 vs. Layer 3 MPLS VPN debate. Read ahead to get the full scoop on:
— Marguerite Reardon, Senior Editor,
Light Reading
Want a deeper understanding of MPLS? Check out the first module of
Light Reading University
's course on the topic. Click on
this link
to check it out for free!
PARTNER PERSPECTIVES
- content from our sponsors