LR Hosts/Wins Telecom Pool Tourney

Comment (1)
CHICAGO – The first annual
Light Reading
Non-Celebrity Pool Tournament ended in a predictable way. The incredibly sozzled duo of Dave "Wet Whistle" Williams and Ray "The Master" Le Maistre, representing
Light Reading
, defeated the team of Dave Boland and Chris Komatas from
Juniper Networks Inc.
(Nasdaq: JNPR) in a match that was only remarkable in that no one fell down during play.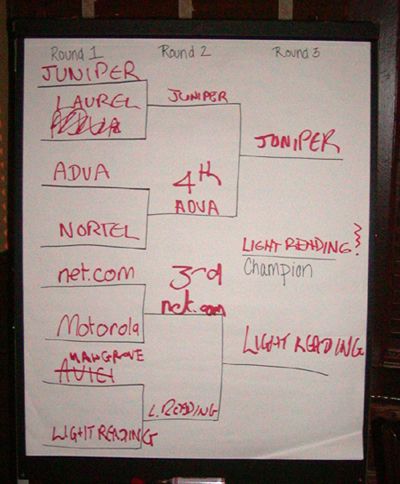 Some advanced the theory that
Light Reading
had some inherent advantage, since it picked the venue --
The Rock Bottom Brewery
-- and organized the eight-team tournament. But it was simply the
Light Reading
team's pure, alcohol-fueled skill that won the day. That, and the fact that
Light Reading
supplied the referees. And the beer.
Juniper's second place effort was nothing to sniff at, however. The router vendor had eliminated
ADVA AG Optical Networking
(Frankfurt: ADAG.F) and
Laurel Networks Inc.
, two teams that were both favored to beat
Light Reading
by the completely unbiased spectators that happened to work at ADVA and Laurel.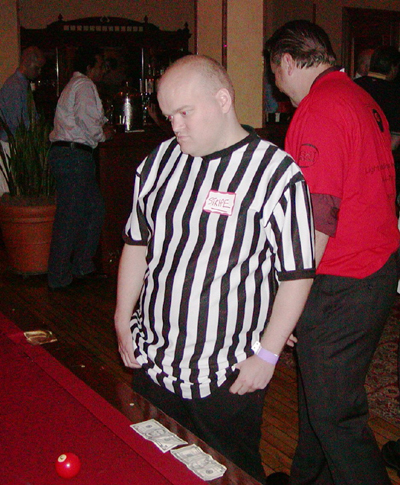 But, alas, even ADVA's table acrobatics and its contingent of distractingly adorable spectators weren't enough to unsettle
Light Reading
's team, who had consumed so much bitter by then that everyone in the room was a supermodel.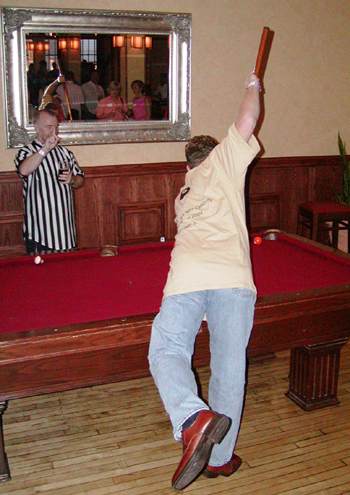 "Juniper won the game via acquisition," said Steve Vogelsang, who smoked heaters with the quiet intensity of a man on Death Row. "They bought a company that happened to have a couple of good pool players."
ADVA, which took fourth place overall, said it had no hard feelings about losing the tournament, so long as it beat
Nortel Networks Ltd.
(NYSE/Toronto: NT). Nortel did take issue with a call by Geoff "The Ref" Bennett, but they resolved the matter with earnest conversation and a little Bronx-style tenderizing of Geoff's midsection.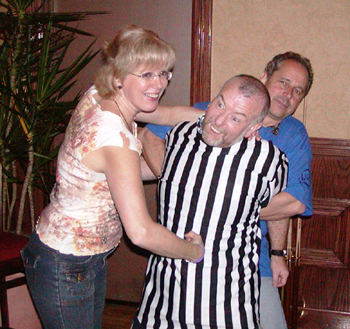 Network Equipment Technologies Inc. (net.com)
(NYSE: NWK) cruised to a respectable third place finish after dusting Motorola in Round One, getting tanned by
Light Reading
in Round Two, and, finally, besting ADVA in the playoff for third. "We make edge routers," said net.com CEO Bert Whyte, when asked about his team's strategy. "And B-RAS devices," he added.
The prize for outplaying, outlasting, and -- especially in Dave's case -- outdrinking the competition was the
Light Reading Tournament Trophy
, the most coveted prize in all of non-professional, telecom-related, amateur sports. Weighing nearly one pound when taped to a pint glass and a packet of cigarettes, the trophy is built with three different kinds of non-biodegradable plastics, covered by an almost metallic gold paint.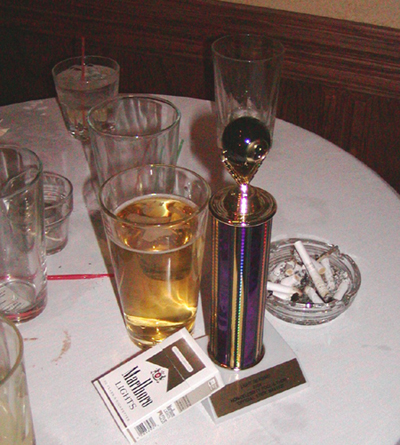 "This event was a complete success," says Steve Saunders, founder and CEO of
Light Reading
. He started to comment further when, suddenly, he glanced down at the table and tears filled his eyes.
Apparently Steve had just been asked to sign the bill.
— Phil Harvey, Bar Games Editor,
Light Reading
PARTNER PERSPECTIVES
- content from our sponsors
GUEST PERSPECTIVES
- curated contributions