Wireless equipment continues to be a tough ol' business, judging by the first-quarter 2003 results from the sector's major vendors. The numbers reveal a market decline of 17 percent since the fourth quarter of 2002 and mark a resumption of the downward trend that's plagued the sector for over two years.

Earlier hopes that the wireless infrastructure market had finally found its bottom have been cast aside, and the consensus now among cautious CEOs is for a decline of between 10 and 15 percent in 2003.

The chart below shows that LM Ericsson (Nasdaq: ERICY) continues to lead the pack by a wide margin, while the race for the second and third spots is still about as tight as Kylie's hotpants (see: Germans Stalking Finns ).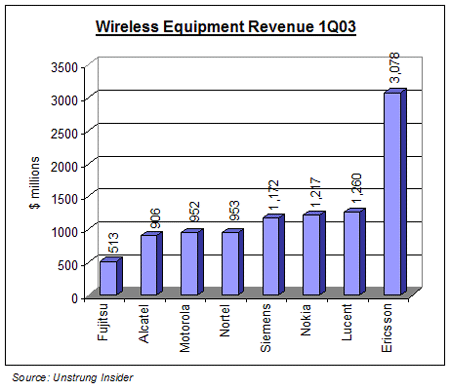 On the upside, at least not all vendors were caught in the malaise. Fujitsu Ltd. (OTC: FJTSY) and Lucent Technologies Inc. (NYSE: LU) both managed to increase their wireless equipment revenues, according to this chart: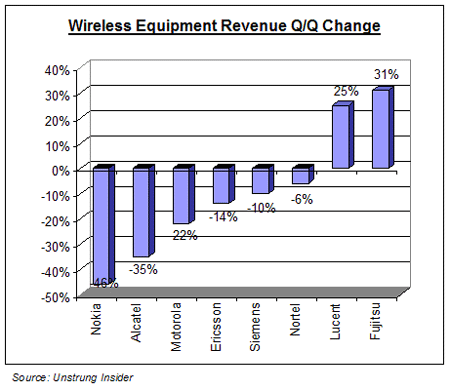 The financial performances of all the above vendors are analyzed in depth in the latest Unstrung Insider report, Financial Health Check: Top 10 Wireless Equipment Vendors.

The report includes comprehensive data on the profitability of each vendor's wireless equipment business, which is now the most useful benchmark by which to evaluate the sector.

This excerpt from the report shows the wireless equipment revenue trend over the last eight quarters: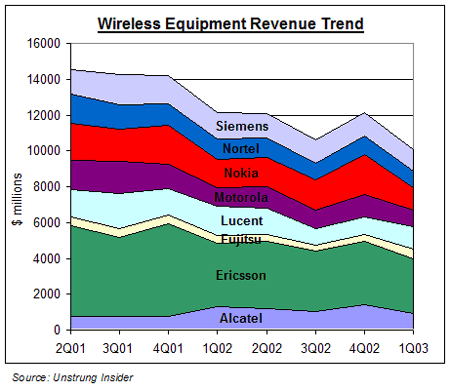 To subscribe, please visit: www.unstrung.com/insider/subscribe.asp

— Gabriel Brown, Research Analyst, Unstrung