10:00 AM -- The Urban Dictionary has added a new term to its lexicon: Katherine Harris Crazy. Definition:


(n.) As insanely optimistic as Congresswoman Katherine Harris. Usually characterized by an overly optimistic estimation of someone's chances of achieving success.

Did you hear Jim just bought 500 dollars in lottery tickets? That boy is Katherine Harris crazy if he thinks he's going to hit the jackpot.


Suggested synonyms include: insane, ridiculous, unlikely, and optimistic.

UD is being uncharacteristically kind here, I think. Here's some real Katherine Harris crazy, courtesy of The Washington Post:


"If you're not electing Christians, then in essence you are going to legislate sin," Harris told interviewers from the Florida Baptist Witness...

Harris told the journalists "we have to have the faithful in government" because that is God's will. Separating religion and politics is "so wrong because God is the one who chooses our rulers," she said.

"And if we are the ones not actively involved in electing those godly men and women," then "we're going to have a nation of secular laws. That's not what our Founding Fathers intended, and that certainly isn't what God intended."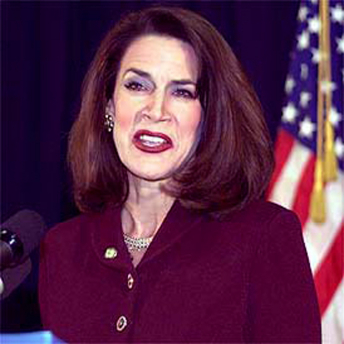 — Larry, Attack Monkey, Light Reading