As JDS Uniphase Corp. (Nasdaq: JDSU; Toronto: JDU) prepares for the announcement of its fiscal 2003 financial figures on Thursday (July 24), analysts give the company good reviews for its restructuring efforts. But the continued lack of profitability may soon become a sticking point for investors.

With JDSU shares now trading at a premium valuation relative to its peers, investors may soon start to question whether it deserves such a price while it's still losing money. Analyst don't see it returning to profitability until 2004 or even 2005.

In many ways, the ball's in JDSU's court. It's still the dominant player in the optical components space, with competitors such as Bookham Technology plc (Nasdaq: BKHM; London: BHM) and Avanex Corp. (Nasdaq: AVNX) vying for second place (see Bookham Buys Nortel's Components Biz and Avanex Deal Reshapes Sector).

As investors have sensed the prospect of a telecom recovery, they've bid up JDSU's shares, which have risen 28% since the beginning of the year. But analysts said that merely being the biggest player in the optical components market isn't worth the nearly $5 billion market capitalization JDS is maintaining.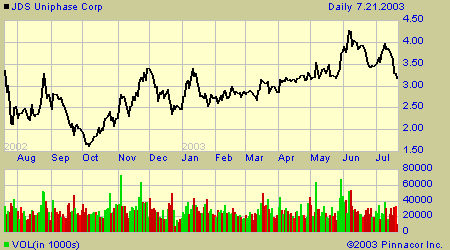 Investors may be looking toward a 2004 recovery in optical components, and analysts say that's not likely to happen. "They're going to get back to stability slower than people are expecting," says Max Schuetz, analyst with Credit Suisse First Boston Corp..

JDSU isn't likely to hit profitability until calendar 2005, says Stephen Savas, the Goldman Sachs & Co. analyst who initiated coverage of JDS with an Underperform rating last week, citing overinflated share prices.

His logic goes like this: JDSU's price-to-sales and price-to-book-value ratios seem out of whack with the rest of the industry. Given Friday's closing stock price of $3.29, its market cap sits around $4.7 billion, putting its price-to-sales ratio at 6.4.

Savas's report points out that the median price-to-sales ratios for other optical component companies sits closer to 5.4. Median price-to-sales for less specialized component companies such as TriQuint Semiconductor Inc. (Nasdaq: TQNT) and Agilent Technologies Inc. (NYSE: A) sits even lower, at 2.3.

Meanwhile, as JDSU continues to shed employees, its revenues are likewise dipping. Revenues for fiscal 2003, ending June 30, are likely to clock in around $678 million, Savas writes. That compares with $1.1 billion in fiscal 2002 and $3.2 billion in fiscal 2001 (see JDSU Posts Loss, Plans Cuts and JDSU Closes Fiscal Year).

Among the difficulties JDSU faces is that, like everyone else, it's turning its focus to the metro and access markets, rather than the once-glamorous long-haul arena. And that means an adjustment to lower margins than the company had banked on.

"There'll be some signs of life in those [metro/access] businesses going into next year, but the problem is, those are lower-performance markets," Credit Suisse's Schuetz says. "They're going against guys like Agilent that are used to commodity markets."

What's been boosting JDSU's financials for the past year is its non-telecom business, which has accounted for half the company's revenues. Most of this business is based on the company's thin-film technology, and it includes quirky applications such as the color-changing ink used on new U.S. currency.

Schuetz suspects that the thin-film business might lose a bit of strength, however. JDSU's largest customer has become Texas Instruments Inc. (NYSE: TXN), which uses thin-film components in its Digital Light Processor (DLP) devices for video projectors. TI comprised 13 percent of revenues in the March quarter.

But Schuetz thinks TI is slowing production of those devices as the sales channel fills up. Moreover, he says TI has improved the yield on its DLPs, which means fewer defective parts and, consequently, slightly lower volumes needed from JDS Uniphase.

— Craig Matsumoto, Senior Editor, Light Reading