Verizon Buys Smart City Kiosk Player
Verizon joins the kiosk craze with news today that it's acquired LQD WiFi, a private company in New York with a product that appears similar to the LinkNYC hubs now scattered throughout select areas of Manhattan. Terms of the deal were not disclosed, but Verizon exhibited with LQD at CTIA Super Mobility 2016 in September, suggesting that the two companies have been working together at least since late summer. At the same event, LQD unveiled its flagship Palo kiosk product.
Palo is a towering piece of hardware that offers informational services, broadband connectivity and public safety features. It includes multiple LCD displays as well as sensors, a camera, a mobile charging station and street lighting.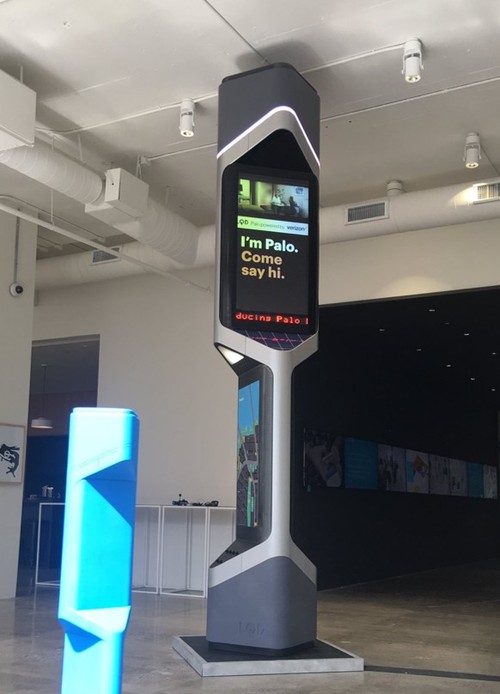 LQD currently has a partnership in place with the city of New Rochelle in the New York suburb to deploy its Palo kiosks. In a statement, New Rochelle City Manager Charles B. Strome, III said: "These attractive kiosks will invite residents and visitors to engage with our city, for everything from parks, cultural events and local businesses, to job opportunities and emergency messaging, and they will connect with the world around them through high-speed public Wi-Fi."
---
Want to know more about carrier IoT strategies? Check out our dedicated IoT content channel here on Light Reading.
---
The move by Verizon Communications Inc. (NYSE: VZ) to acquire LQD comes amid a high-profile campaign by the company to gain traction in the emerging smart cities sector. Verizon has listed smart cities as one of five critical areas of focus for its business and has bought up several smaller organizations to add to its related Internet of Things technology portfolio. Prior to buying LQD, Verizon acquired networked lighting company Sensity in September, as well as two fleet management companies -- Telogis and Fleetmatics -- in June and August, respectively. (See Verizon's Sensity Buy Brightens IoT Strategy.)
Meanwhile, LinkNYC has paved the way for Verizon's entry into the kiosk market with the rollout of its Link installations in the Big Apple. However, there is limited information to date on how much usage the Links get or whether they're paying off for advertisers and the city. In fact, the most publicity that LinkNYC has received since its launch in January came when the CityBridge consortium behind the project decided to shut off Internet access on the display screens as a solution to the problem of citizens using Link kiosks to view porn. (See Gigabites: The Big Apple Gets Gig WiFi and LinkNYC Cuts Off Web to Prevent Homeless Watching Porn in Street.)
In other LinkNYC news, CityBridge did announce today that it's now deployed its first Links in Brooklyn and Staten Island. And Intersection, one of the participating companies in the CityBridge consortium, announced just last month that it's partnered with BT for a LinkUK project that will bring connected kiosks to London next year. (See Gigabites: Et Tu, Google Fiber?)
The smart cities movement continues to grow as both public and private institutions invest in the infrastructure and applications that will ultimately define smart city development. Earlier this year, the US Department of Transportation hosted a Smart City Challenge, and numerous tech and telecom companies raced to partner with the government for the nationwide contest. Columbus, Ohio was named the winner of the challenge in June. Partnering companies in the initiative include Alphabet Inc. 's Sidewalk Labs (also an investor in Intersection), Amazon Web Services Inc. and AT&T Inc. (NYSE: T), among others.
Related posts:
— Mari Silbey, Senior Editor, Cable/Video, Light Reading
PARTNER PERSPECTIVES
- content from our sponsors