There's another buzz-phrase circling the tech sector. With stage one of the Internet of Things underway, the tech glitterati are looking to the next big thing -- how connected devices can do more for us by connecting not just with the Internet, but with each other, and in a multitude of ways.
A number of companies are calling that ambient intelligence. It's a combination of the idea that the whole (of IoT) is bigger than the sum of its parts and that the next-generation of network intelligence won't just be hosted in a data center, but all around us.
The concept of ambient intelligence surfaced recently in comments from Amazon Web Services Inc. GM Sarah Cooper. Cooper was speaking on a panel at CES about her thoughts on what should happen next in a world of connected devices. High on that list? Cooper said she wants "to see more of this ambient intelligence layer, where the additive value of a couple of devices working together gives me more benefit than any one device."
The philosophy has been around for several years, but developments in connectivity and artificial intelligence are bringing ambient intelligence closer to reality. Consider Comcast Corp. (Nasdaq: CMCSA, CMCSK)'s smart home initiatives. The cable company is building a system that will recommend actions (turning a thermostat up or turning the lights off) based on what it knows about group and individual behavioral patterns. The company is starting with connected devices in the home, but plans to extend its reach into wearable technologies, connected cars and more. Comcast is building ambient intelligence. (See Comcast Unlocks xFi-Powered Smart Home.)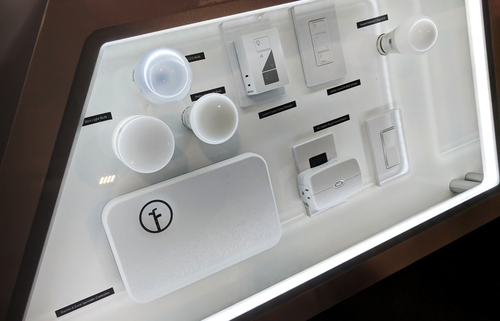 ZigBee Alliance President and CEO Tobin Richardson agreed with AWS' Cooper on the CES panel that it's time to make data and devices do more.
"I'm going to double down on domain intelligence, or ambient intelligence," said Richardson. "I think that's something I'd really like to see is the artificial intelligence take advantage of all the data that's out there. There's enough right now to be doing some really interesting things... And I think we're just on the crux of that right now, where we've hit a saturation point where there should be enough data to pull something together there as well as the artificial intelligence behind that."
The problem, however, as Cooper also outlined, is that there has to be a more effective way to recognize financial returns from ambient intelligence applications. She noted that, "I think we haven't seen [the growth of ambient intelligence] because of this ecosystem problem of how do we then distribute that additive value, how can we distribute that back to the vendors?"
This, in some ways, is the same issue that the telecom sector is grappling with as it explores how best to charge for connectivity in low-end sensor devices. Until recently, there hasn't been a business model in place to support these types of connections, but that's slowly starting to change. (See Don't Put a SIM Card in a Rodent Trap and Senet Virtualizes Worldwide IoT Network.)
Business models for ambient intelligence will also have to evolve. That includes not just the connectivity piece, but also who gets paid for the computing power and the algorithms used, and how the balance of power is negotiated among hardware, software and services companies. And that's without even mentioning security.
There's work to be done, but big industry forces are all moving in the same direction. If you tie today's major tech-conference themes together -- IoT, edge computing, AI, automation, even 5G -- they all point toward the same idea of ambient intelligence. The name may or may not stay the same, but the concept continues to gain traction.
— Mari Silbey, Senior Editor, Cable/Video, Light Reading