Since 1991, when GSM was first deployed, there has been a steady progression within the mobile industry toward ever-increasing bandwidth and speed. To a degree, that assumption was at the heart of the 5G announcements at Mobile World Congress (MWC) 2014 in Barcelona.
However, since that time and in particular during the past 12 months, there has been a radical bifurcation in the trajectory of the industry and the technology it requires.
One of the future growth markets for mobile operators is thought to be the Internet of Things (IoT). The challenge for IoT is that the major requirements are asymmetrically opposite the current industry direction; namely -- very low bandwidth, very low data, very low power and very low cost devices.
In 2015, within the mobile industry there was widespread recognition that the converged technologies of LTE, with its heavy signaling overhead and wide channels, are totally inappropriate for these types of IoT applications. The resulting cost of LTE modules and services are unacceptable to the enterprise market as they start to investigate the business cases driving IoT.
More significantly, since 4G is so much more efficient than 2G and 3G for the delivery of traditional voice, and the fact that video traffic is growing exponentially, many network operators are looking at re-farming the spectrum in which 2G and 3G technology is deployed and putting 4G technology into that spectrum. AT&T Inc. (NYSE: T) is doing this in the US, resulting in its announcement that it will shut down its GSM network and 2G machine-to-machine (M2M) business by the end of 2016.
This type of strategic decision has major economic consequences for customers that, over the years, have invested in 2G devices and modules in remote locations and usually don't touch them from one year to the next. By the end of 2016, this network of things will go dark, undoubtedly causing a great deal of customer frustration.
In some respects, this strategy of re-farming means that the mobile industry has been, or is in the process of, shooting itself in the foot because the M2M industry that it has been supplying without much care or thought is, all of a sudden, asking if there are alternative technologies. Industrial companies are disinclined to get wrapped up in the arms race to constantly upgrade to the latest and greatest new technology, when all that they really want is a technology that can last 10 or even 20 years. Consequently, there has been increasing interest in companies that offer a viable alternative, such as Sigfox , the LoRa Alliance , the Weightless SIG and Ingenu -- all low-power wide-area networks that are taking advantage of this strategic opportunity.
For the first time, there appears to be a real alternative competitive threat to the mobile operators from a growing number of Low Power Wide Area (LPWA) specialists in terms of the provision of the IoT backbone. As a result, the industry is starting to see companies repositioning themselves: for example, Samsung Corp. , Telefónica and NTT DoCoMo Inc. (NYSE: DCM) have all invested in Sigfox; Telefonica has a trial network with Sigfox; and Orange (NYSE: FTE), Bouygues Telecom , KPN Telecom NV (NYSE: KPN) and Singapore Telecommunications Ltd. (SingTel) (OTC: SGTJY) have all started trials with LoRa technology.
We are likely to see an increase in hybrid networks that are both the traditional cellular as well as the non-traditional. The next three years are going to prove very interesting in terms of whether the LPWA companies can get their technologies to gain traction in the market on their own, or in partnership with other companies. Non-cellular players, such as cable companies, fixed-line players, as well as cloud providers that want to participate in the IoT space, could all be potential partners for these LPWA players.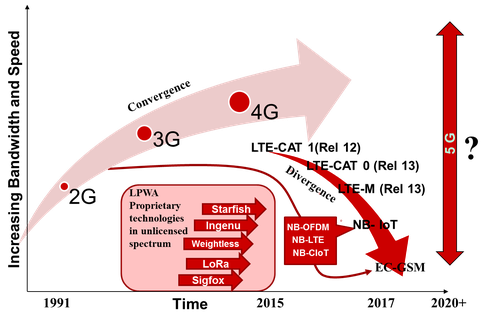 Ingenu is an interesting example of the dynamics in this market. It is a startup LPWA company that has brought in seasoned industry players and done a pivot around its original business model. Formerly known as On-Ramp Wireless, it rebranded and changed its business model from being just a technology and platform supplier to also being a public network operator developing its Machine Network, similar to the Sigfox strategy. Its focus is on the utility and energy industries in the US, and in most of those use cases an operator doesn't need to have a national footprint -- it can just provide a local or regional one. This means that it can rapidly and cost-effectively tailor services for these customers without huge overhead. Incrementally, it can provide services to other industrial and enterprise companies on a regional basis. This can potentially be done in partnership with the local utility, which gives them the opportunity to monetize their spare capacity. This is the plan that Ingenu laid out in September last year and has been aggressively pursuing.
In 2015, the mobile industry recognized that it had an issue and began working frantically to agree a cost-effective solution to counter these LPWA competitive threats. The result was that, through 3rd Generation Partnership Project (3GPP) , the chipset vendors, network vendors and operators agreed on a compromise standard -- NB-IoT -- that combines the development work carried out on NB-LTE (Ericsson, Nokia & Intel) with the efforts on Cellular IoT (Huawei & Qualcomm). The standard is set to be agreed upon this month, with the intent to include it in the LTE Release 13 scheduled for May 2016. (See GSMA Lauds NB-IoT Standard Agreement .)
In November 2015, in anticipation of this standard, a preparatory planning meeting of the NB-IoT Forum was held in Hong Kong. Initial members of the consortium include China Mobile, China Unicom, Ericsson, Etisalat, the GSMA, GTI (Global TD-LTE Initiative), Huawei, Intel, LG U+, Nokia, Qualcomm, Telecom Italia, Telefónica and Vodafone. The forum's role is to promote proof of concepts, drive applications for vertical markets and ensure interoperability of solutions to ensure robust growth of the market and the strength of industry value chain. It is anticipated that pre-commercial trials should occur in the second half of 2016 and commercial deployments in 2017.
Vodafone, together with Huawei and u-Blox, deployed and completed a commercial trial of a pre-standard NB-IoT technology in its existing Spanish network and Deutsche Telekom is conducting a similar trial. (See Vodafone, Huawei Trial Pre-Standard NB-IoT.)
Meanwhile, Ericsson and Sequans Communications worked with Orange to test extended coverage GSM (EC-GSM) in 900MHz, as well as first trials of LTE-M. (See Eurobites: Orange Fine-Tunes IoT Vision.)
The question is, after the 2015 standards scramble and collective herding, is it too little too late? Looking ahead at the beginning of 2016, it's difficult to predict the outcome for LPWA, IoT and the mobile industry over the next three to five years, but what is clear is that a bewildering array of credible alternative options are now available to enterprises looking to deploy industrial IoT capabilities.
The mobile operators are frantically trying to retain their position as the obvious connectivity choice and to re-establish their credentials as trusted long-term partners to the M2M industry. The networks that they will be managing will be more complex and, in all probability, a hybrid mixture of technologies. The progress made toward virtualization in 2015 will need to be rapidly accelerated to deal with this mishmash of technologies and the diversity of services offered across the network.
Those enterprises that have a need to deploy replacement or new IoT networks now will be seriously looking at the proprietary alternative players. Aiding this momentum are large chipset vendors, such as STMicroelectronics NV (NYSE: STM), looking to take advantage of system-on-a-chip opportunities on these new LPWA technologies. This will enhance the possibility for the fledgling vendors to gain scale and market presence ahead of the standardized LTE and GSM offerings.
Another possibility is that this technology bifurcation will result in mobile operators splitting off their IoT business to focus on and evolve dedicated new business models and offerings, in the same way that telcos did with cellular 20 years ago. Some have postulated that content providers, such as Google (Nasdaq: GOOG), Facebook and Amazon.com Inc. (Nasdaq: AMZN), could acquire a major mobile network at some point over the next couple of years: This scenario could be triggered if operators discover that their IoT operations are not the growth engines they envisaged.
Equally, it could mean that industrial giants, such as IBM Corp. (NYSE: IBM), General Electric Co. (NYSE: GE) or Bosch could see the opportunity to buy one or more of these split-outs and create IoT backbone networks to leverage their vertical market presence to provide industrial IoT services. Another possibility is for a cloud provider to scoop up and invest in the LPWA players as a means to providing the conduit between industrial capillary sensor networks and the cloud, without the cellular middleman.
Whatever the outcome, the mobile industry will look back at 2015 as the watershed year, when IoT radically and irrevocably changed the course of the industry and the relentless and predetermined convergence march to 5G was finally interrupted and divergent innovation was introduced into the industry.
— Steve Bell, Senior Analyst, Heavy Reading