There's so much that goes on at the CES show in Las Vegas with its 180,000-plus attendees that you could throw just about any tech topic into a trend story on the event and call it a day. However, there are always a few topics that seem to loom larger than others as we approach the annual gadget fest.
Here are my picks for 2018.
Smart homes beget smart cities
The smart home is an increasingly important topic at CES as more devices embed Internet connectivity, more platforms add new device management capabilities and more service providers join the IoT gold rush. (See Comcast Accelerates Into 15 IoT Markets.)
This year there's a new twist to the story, however. In addition to showcasing smart home products and applications, companies and organizations will be highlighting smart city solutions. The topic is big enough that it's getting its own conference track and dozens of vendor booths clustered in a Smart Cities Marketplace. The scope is still relatively limited, but I expect it will expand significantly in 2019.
In addition, the City of Las Vegas and Cisco Systems Inc. (Nasdaq: CSCO) have teamed up this year to host a tour of smart city technologies already deployed locally. On tap for the tour? Connected cameras, sensors, lighting and a driverless trolley ride.
Disney's world
Hot off a $52.4 billion deal to acquire several 21st Century Fox film and TV assets, the president of the Disney ABC Television Group Ben Sherwood will headline a session at the Entertainment Summit on site at CES. Why is this important? Because Sherwood promises to talk about a new streaming service in the works for the direct-to-consumer market. As far we know now, Walt Disney Co. (NYSE: DIS) is planning to launch an ESPN OTT offering in 2018, followed by a subscription movie service with titles from Disney and Pixar in 2019. (See Disney Buys Fox for $52.4B and Disney Joins OTT Bandwagon.)
The pressure on video service providers to compete with their own content partners is a trend that only seems to accelerate with each passing year. The question is, when will the market fragment so much that the traditional dynamic between distributor and programmer becomes unsustainable? Or put another way, are we at the point now where distributors simply have to own their own content as the content companies home in on the distribution game? The lines -- at CES and everywhere else -- are certainly getting blurrier.
VR hype cycle plateaus
There is no getting away from virtual reality at CES, and really, why would you want to? But I'm starting to feel like we're reaching a plateau of enthusiasm. This may be my own fatigue from VR PR pitches, but the reality is there's only so much VR tech the average consumer can experience without buying an expensive computer or gaming console. Even the news that stealth startup Magic Leap will finally introduce its long-awaited mixed reality platform (Creator Edition) in 2018 doesn't do much to change the consumer landscape for the near future.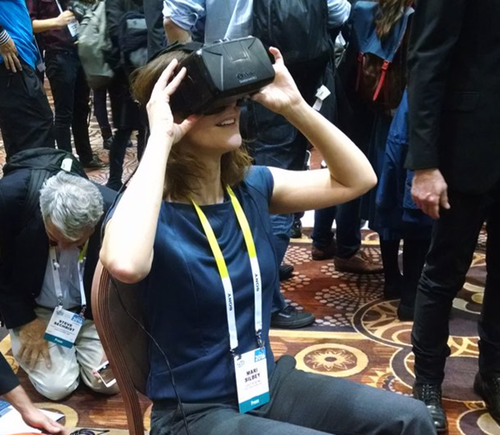 There will still be plenty of VR demos in Vegas during CES, and they'll be a lot of fun when you can get through the lines to try them out. But VR is still more virtual than reality, and there will probably be a few more CES cycles before that changes.
5G momentum builds
With the first 5G specification now available, I expect industry buzz to reach a fever pitch. That will certainly impact CES, driving shop talk at the event and likely a smattering of demos. 5G is going to influence nearly every form of gadget seen at the consumer electronics show -- from cars to drones to screens and VR headsets. (See 5G Is Official: First 3GPP Specs Approved.)
But keep in mind that Mobile World Congress takes place just six weeks after CES ends. CES may start the 5G frenzy in 2018, but MWC will deliver the first payoff. I expect most companies to hold any 5G news until the mobile show in Barcelona.
Everything will be called AI
Taking us one step closer to the singularity, the rise of artificial intelligence should be in full evidence at CES this year. How do we know? Well, big names from Amazon.com Inc. (Nasdaq: AMZN), IBM Corp. (NYSE: IBM) and Microsoft Corp. (Nasdaq: MSFT) will also be on hand to discuss the Future of AI, not to mention various standards organizations and robotics companies of all sorts.
Even more prevalent then the folks actually presenting on AI, however, will be the number of companies claiming to incorporate AI tech. At this stage, anything can be tagged with the AI label, from video content and discovery platforms to service assurance solutions to customer support software. And what better time to make use of a buzzword than at CES? AI, here we come.
— Mari Silbey, Senior Editor, Cable/Video, Light Reading