Startup Everactive believes it can solve one of the major barriers to industrial IoT (IIoT) implementation by enabling battery-free operations.

Everactive says a midsized industrial plant can have thousands of assets that would benefit from IoT sensors. "Do you want to waste time with costly battery replacements on all of those assets?" the company asks.

Everactive's custom chips harvest power from multiple low-energy sources, including indoor solar, thermal gradients, RF vibration, and more. The Santa Clara-based company distributes Eversensors, which support an array of sensors and energy-harvesting methods that can be used in critical factory equipment such as systems for monitoring steam traps -- the automatic valves that filter condensed steam and non-condensable gases without letting steam escape.

In late 2018, Everactive launched its first product, Steam Trap Monitor (STM), for use in industrial and district energy systems -- the latter produce hot water, steam or chilled water at a central plant and then distribute the energy through underground pipes to connected buildings. STM is designed to continuously monitor steam traps and discern if they have failed.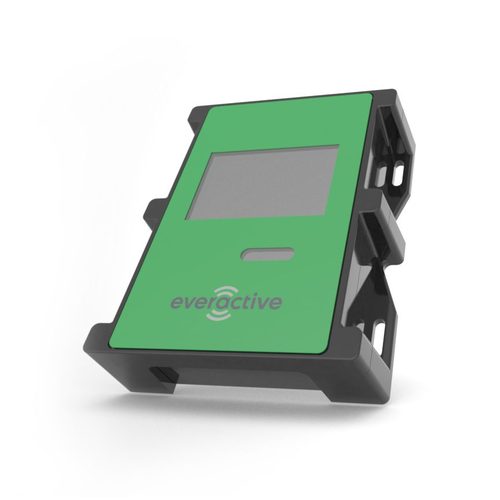 The firm says hundreds of Eversensors can report back through a single gateway to the cloud, adding that it uses both proprietary and standard wireless protocols.
Everactive changed its name from PsiKick in June, while closing a $30 million funding round led by Future Fund and joined by new investors Blue Bear Capital and ABB Technology Ventures, alongside existing investors New Enterprise Associates (NEA) and Osage University Partners. The firm has scored $63 million in funding since its formation in 2012.
The company's co-founders, Dr. Benton Calhoun and Dr. David Wentzloff, have been working on ultra-low-power electronics since their days together at MIT's Electrical Engineering & Computer Science program. In subsequent years, as professors at the University of Virginia and University of Michigan respectively, the two continued to collaborate until several key proof points prompted them to spin the company out of the two research institutions.
Why this matters
Several companies and startups have launched wireless power systems recently, as battery-less power becomes a more popular concept across IoT. Everactive is one of the best-funded startups in the wireless power field.
Related posts:
— Dan Jones, Mobile Editor, Light Reading