Verizon Hums a Driving Tune

Comment (18)
After nearly a year of beta testing, Verizon's aftermarket vehicle device, designed to bring connectivity to any car, is ready to hit the road. The carrier announced the commercial launch of the device, called hum, and subscription service Wednesday.
The self-install hum device provides drivers with diagnostic information, roadside assistance and access to mechanics and emergency personnel via a smartphone app connected over Bluetooth to an onboard diagnostic (OBD) reader. Verizon Communications Inc. (NYSE: VZ) first announced the OnStar competitor in January under the moniker Verizon Vehicle. (See Verizon Vehicle Races to Catch Up to OnStar.)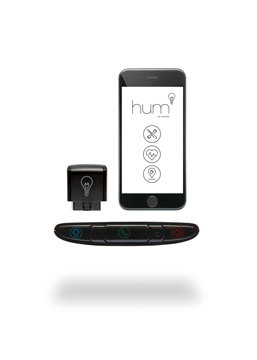 ---
For more on connected cars, visit the dedicated automotive content section here on Light Reading.
---
Hum provides the same level of information about cars that fitness wearables do about health, Verizon Telematics CEO Andrés Irlando said in announcing the technology. Verizon is charging $14.99 per month plus taxes, fees and equipment for the first vehicle with a two-year contract. Customers can add more cars at a lower cost. (See Verizon Focuses on Cashing In on LTE.)
Hum is just one of several ways Verizon is taking on competitors like AT&T Inc. (NYSE: T) in connected cars. By making an aftermarket device, the carrier can reach the more than 150 million cars that are already on the road -- and unconnected -- today. It is a complement to other efforts, which include a focus on driverless cars, built-in LTE connectivity with partners like Mercedes Benz, a ZipCar-like car rental service, partnerships with insurance providers and more still to come. (See Verizon Builds Driverless Cars Their Own City, AT&T Clinches M2M Market Lead With GE Deal, Verizon Creates a Mobile ZipCar and Verizon Spends $612M for a Future in Cars.)
— Sarah Thomas,

, Editorial Operations Director, Light Reading