Traditional telcos have known for years that they need to undergo an operational, cultural and business process transformation if they're to remain relevant to their customers in the decades ahead, but implementing that sort of transformation is tough, especially when you've got millions of customers to serve, networks to run and shareholders to keep happy.
Increasingly, the introduction of non-traditional services, particularly those built around cloud models, is proving to be the catalyst for change and that, at least in a small but meaningful way, is the case at Telia Company , according to a senior executive responsible for a relatively new but strategic and growing division within the business, which has operations in the Nordics, eastern Europe and Eurasia.
Less than a year after its launch, Telia Sense, the operator's connected car services business, has had a significant impact on how the operator views its role in the digital world and how it believes it can approach new business opportunities, according to Jens-Peter Meesenburg, head of industry verticals for Telia's Global IoT division.
Talking to Light Reading recently to provide an update on Telia Sense, which launched in Sweden in November 2016 using a cloud services platform from specialist vendor Springworks AB , Meesenburg noted that the connected car service has forced the operator to behave differently and become an "orchestrator of partners," playing a central role in a broad ecosystem. (See Telia Wants Driving Seat in Connected Car Biz.)
"Being able to manage and orchestrate partnerships and deal with an ecosystem is a new role and an important step for telcos," notes Meesenburg, who says his team was in discussion with partners for a year before the service was launched commercially.
"We have also learned that it is about the whole ecosystem -- we had to have discussions with other participants for a year before we could launch, and we have been working with companies that we've never had dealings with before. Those other companies want to work with us to help transform their businesses. For example Bilia, the biggest car dealership in Sweden, is using the data provided by Telia about their customers so they can be more proactive, and less reactive, in the way they do business."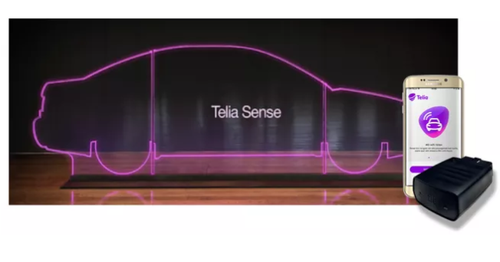 That process, and the evolution of the Telia Sense business in the ten months it has been active, has provided an insight into how a company such as Telia can play an enhanced role in the communications services market, beyond providing connectivity and delivering standard comms services. It has also taught Meesenburg and his team some invaluable lessons about the changing operational landscape and what makes pragmatic sense, for example, when it comes to the topic of big data and analytics (more on that later).
No sleeping at the wheel, please…
Just like the drivers of the cars it's connecting, the Telia Sense team needs to be alert, reactive and ready to change direction at short notice. "The initial plan was to target the B2B market, but we quickly found that there was an appetite in the B2C mass market, that consumers had a willingness to pay, and that has worked to our advantage -- working in the consumer market has helped us to be very end-user focused and that, in turn, has helped us in our approach to the enterprise market. Key to all of this is to be able to set up a plan and then be able to change it -- that has been our experience." Also key to enabling that change is "engaging in business process reengineering with partners."
With that approach, Telia has been able to evolve its service quickly within its first year, says Meesenburg. "We thought we had launched a viable product but users quickly told us what was missing, and we have been able to change our roadmap based on customer feedback. This has been a big lesson learned -- we have been able to adapt quickly to meet market demand, much quicker than the two-year reaction that is normal for a telco."
So how successful has the launch been? Not good enough to share customer numbers or financial details as yet, but the service was quickly rolled out to another market -- Telia launched its connected car service in Denmark in late June -- and another launch is in the works. "We are not sharing customer or traffic volume data yet, but we are on budget, and plan to launch services in a third country by the end of the year."
And there's a sense that, now it has services launched and is learning fast about what does and doesn't work, the operator is keen to ramp up the connected car business as quickly as it can. "It's a battle for the port -- there's only one OBD [on-board diagnostics] port in each car," notes Meesenburg, adding that this service is also an important part of a larger puzzle. "We see the connected car, as do other telcos, as part of our smart city strategy. We need to look at this as part of a bigger picture -- making services available to users beyond the home and business and into the wider area."
So who is it battling against for that OBD port? Telia expects non-telcos to enter the market -- large insurance companies, for example -- but in the Nordic region the main potential rival is, as usual, Telenor, "but it pulled out of its launch in the summer," crows Meesenburg.
Telenor, had, indeed, been preparing a launch and announced a pilot of its Telenor Connect service in late January this year. (See Eurobites: Telenor Tinkers With Connected Car.)
But the Norwegian operator confirmed to Light Reading in an emailed response to questions that it "recently decided to close down the Connected Car project, after considering a number of issues related to the project and solution -- time spent to get the product up and running, lifespan of the product, complexity, cost etc."
Currently, then, Telia has an opportunity to build a commanding position in the Nordics, but it's still early days. Meesenburg notes that there are "about 8 million cars in the Nordic region -- we have a long way to go." But the current set-up is geared for significant expansion -- "the Springworks platform is capable of handling a user base of about 2 million" -- and the target is to break even within the next year. In Sweden, users pay about 100 Swedish kronor (US$12.55) per month for the basic service and then purchase additional partner services on top: "That is a good margin business for us," says the Telia man.
Next page: Battling perceptions and working with a Swiss army knife