Also in today's EMEA regional roundup: Ericsson takes NB-IoT to the max in Oz; cybersecurity laggards get left behind; is Gavin's potential BT successor gorgeous enough?
While the rest of the world tries to figure out if self-driving cars are a viable 5G use case, Qatar's Ooredoo has gone a step further with a demonstration of the self-flying car. Claiming a world first, Ooredoo said its pilotless aerial taxi is big enough for two passengers and will travel at speeds of up to 130km/h for 20 minutes (after which Dr Emmett Brown presumably needs to shovel more garbage into the tank). Ooredoo didn't have much to say about the 5G connectivity bit, although we're guessing 5G's low latency is needed to prevent collisions with other unmanned flying objects. Ooredoo hasn't indicated when these aerial taxis might take to the skies. But for those traveling to Qatar for the soccer World Cup in 2022, the aerial taxi probably won't be an option for getting from your hotel to the match.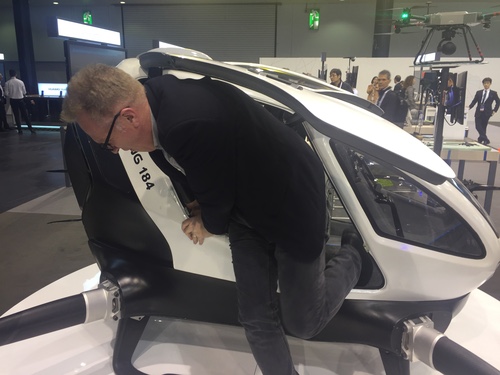 Sweden's Ericsson AB (Nasdaq: ERIC) has taken NB-IoT to the max in a record-breaking trial with Australia's Telstra Corp. Ltd. (ASX: TLS; NZK: TLS) that recorded data connections over a distance of 100km. Ericsson is claiming a major breakthrough because the "5G" technology -- which is used to provide low-power connections for smart meters and similar gadgets -- has been standardized to work over distances of only 40km. Operators can take advantage of its latest innovation through a software upgrade, it says, and do not have to swap out their NB-IoT devices. "Telstra already had Australia''s largest IoT coverage ... With this NB-IoT extended range feature, we have now extended our coverage to more than three and a half million square kilometers," said Channa Seneviratne, Telstra's executive director of network and infrastructure engineering, in Ericsson's statement. (See Vodafone Brings NB-IoT to UK, Starts Trial With Scottish Power.)
Vodafone Group plc (NYSE: VOD) reportedly aims to raise about €4 billion ($4.7 billion) from bonds to help fund its takeover of Liberty Global Inc. (Nasdaq: LBTY), the European cable giant is it trying to acquire in an €18.4 billion ($21.5 billion) deal. The "hybrid" bonds would combine debt and equity in a single security and allow Vodafone to maintain its credit rating while raising funds for the takeover, according to a story from the UK's City AM newspaper. The deal, if approved by competition authorities, would give Vodafone cable networks across several European markets and make it a formidable rival to German telecom incumbent Deutsche Telekom AG (NYSE: DT), which has fiercely opposed the move. (See Will Liberty & Vodafone Strike a Deal? What Will It Mean for Headcount?.)
And still on Planet Vodafone: Businesses that are "cyber ready" are reporting faster growth in sales than security laggards, according to a new report from the UK-based operator. Vodafone, which, unsurprisingly, sells security services to its business customers, correlates cyber readiness with better business performance in its new Cyber Ready Barometer. One of the headline findings is that 47% of cyber ready businesses grew their revenues by at least 5% in the last year (it's unclear how the majority got on). For anyone who's curious, being cyber ready essentially means you are well prepared for a cyber attack. Alarmingly, about 76% of companies globally appear to be cyber unready.
---
Home in on the opportunities and challenges facing European cable operators. Join Light Reading for the Cable Next-Gen Europe event in London on November 6. All cable operators and other communications service providers get in free!
---
As the dust from what might be one of the most convoluted takeover battles in history finally settles, Sky , which was in the eye of the takeover storm, is quietly continuing to get closer to Netflix. Fresh from last week's announcement that the streaming service was to be integrated into Sky's top-end Sky Q set-top box, the pay-TV giant has now brought Netflix onto its subscription-free Now TV platform. At the same time, it is also introducing a new Now TV Smart Box, which offers voice search and 4K Ultra HD streaming, for those with a premium Netflix account. (See Comcast Outbids Fox for Sky With Offer of £17.28 Per Share.)
Deutsche Telekom AG (NYSE: DT) has launched its Telekom Data Intelligence Hub, which it describes as a "virtual market place for data sharing." The German city of Bonn has already checked out the new platform, and plans to use it as a portal to the city's various data sets, incorporating information such as the location of WiFi hotspots, taxi stands and waste collection times.
BT Group plc (NYSE: BT; London: BTA) shareholders may be asking the crucial question about Philip Jansen: Is he sufficiently good-looking to replace Gorgeous Gavin (Patterson) as BT's CEO? The exiting Worldpay boss is poised to land the top job at the UK's biggest telco, according to a Sky report earlier this week, and will take over from a man repeatedly likened (by Light Reading and Telecoms.com, anyway) to such on-screen sex gods as Michael Landon and David Hasselhoff. Jansen seems more of a bespectacled Tim Vine (a British comedian) than a Hollywood action man. But looks aren't everything, and Vine has in the past won the coveted "funniest joke" award at the world-famous Edinburgh Festival. Whoever succeeds Patterson, shareholders must hope he or she can also deliver an award-winning performance, although funny jokes are probably not what BT needs. The operator's share price has fallen 17% since January and by 42% in the last two years. (See BT in Talks With Worldpay's Jansen About CEO Job – Reports and BT Waves Goodbye to Gorgeous Gavin.)

— Iain Morris, International Editor, Light Reading
Additional material and encouragement from Paul Rainford.