Adtran takes shot at LoRaWAN market
Adtran is taking a bigger stab at the enterprise IoT market with a new LoRaWAN Gateway powered by the long-range/low-power connectivity platform.
Adtran said the new product, dubbed the 7310-08 LoRaWAN IoT Gateway, can connect to a multitude of low-bandwidth sensors and put partners in position to deploy a LoRaWAN overlay network.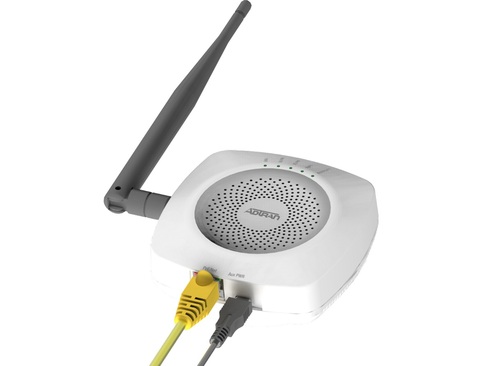 The company will use the new product to focus on smart building applications, including asset tracking, equipment monitoring, lighting controls, biometrics, motion sensing and contact tracing. Adtran, which joined the LoRa Alliance last fall as a "contributor" member, noted it will focus sales of the gateway on LoRaWAN network operators, value added resellers and solution integrators.
The 7310-08 LoRaWAN IoT Gateway, an indoor device that can be mounted on walls or ceilings and work with other LoRaWAN-based products, can be powered via PoE (power-over-Ethernet), eliminating the need for installing a power outlet, the company said. The gateway also supports Bluetooth-based configurations and an iOS app that lets service providers access the device securely to obtain system stats and Ethernet configurations.
In an email exchange with Light Reading, Adtran said the product inserts the company into a new market, noting that it has already notched purchase commitments with yet-to-to-identified customers. In addition to focusing on the design, manufacturing and sale of LoRaWAN gateways, the company is also exploring opportunities to take advantage of its service group and potential IoT ecosystem partners to provide installation and maintenance services, as well as managed IoT services, the official added.
Enterprise IoT heating up
Adtran's new product entry also comes about amid other recent enterprise IoT activity centered on LoRaWAN. MachineQ, a unit of Comcast, last week introduced a streamlined version of its platform focused on scaling up its budding enterprise IoT business. Touting tighter ties to Comcast Business and a more aggressive sales and marketing efforts, MachineQ says it now supports "hundreds of thousands" of online devices, and that it has seen a surge in data payloads on its platform and a 10x increase in LoRaWAN gateway deployments over the past year.
Adtran is also getting deeper into enterprise IoT as some industry watchers expect the market to pick up steam in the coming years.
"The number of businesses realizing the value that IoT initiatives can deliver is growing exponentially year over year. Looking forward, we forecast the global installed base of IoT devices across automotive and transportation, commercial and industrial electronics, consumer and medical to exceed 30 billion by 2030," Joshua Builta, director, Internet of Things, at Omdia, said in a statement. Omdia and Light Reading are both owned by Informa.
Related posts:

— Jeff Baumgartner, Senior Editor, Light Reading
PARTNER PERSPECTIVES
- content from our sponsors