Test-and-measurement vendor Ixia (Nasdaq: XXIA) saw its stock leap up a healthy $1.38, nearly 8 percent, to $19.50 this morning, but the company hadn't announced any news.

What's the deal?

Ixia itself didn't have an answer. A spokesman noted, though, that while today's 1.5 million volume of shares traded was unusually high, trading in its stock has been much more active in the past two to three months, and today's spike was one of a number of recent share price leaps (see chart below).

The chart also shows a dramatic climb in Ixia's share price during the past six months. The 12-month low of $5.72 was recorded last August, but since then the firm has seen a steady rise to nearly four times that price.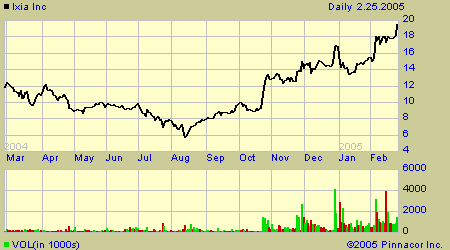 The root cause of the stock's growing popularity appears to be an increasingly healthy carrier and enterprise capex market that has driven greater demand for Ixia's products and services. For example, Ixia's fourth-quarter 2004 revenues of $35.2 million were up 53 percent from a year earlier and up 17 percent from the third quarter (see Ixia Reports Q4 and Ixia Q3 Revenues Rise).

Investors are also anticipating higher carrier spending in two key areas for Ixia -- routers and security -- according to one analyst who requested anonymity.

The analyst noted that in the past week there have been a number of research studies showing an expected increase in spending on routers and network security products, two areas where Ixia has strong and popular product lines (see Chambers Sells Self-Defending Networks and Ixia Claims Terabit Tester).

For instance, Infonetics Research Inc. this week noted that enterprise router unit shipments were up 8 percent sequentially in the fourth quarter of last year.

These trends are making Ixia an increasingly attractive investment opportunity, as router test equipment sales are the test firms' bread and butter -- and Ixia also has some unique testing capabilities for routers with integrated security features. Infonetics noted that sales of "secure routers" were increasing and are expected to account for 29 percent of all enterprise router sales in 2008, compared with 12 percent in the fourth quarter of 2004.

Ixia has also had its stock target price raised by analysts in the past week following the company's February 16 analyst day. Hibernia Southcoast Capital raised its target price from $17 to $18, while Needham & Co. reiterated its Buy rating and raised its target from $18 to $21.

And in a research note issued on February 18, JMP Securities maintained its Market Outperform rating on the firm, and set a target price of $21.

Ixia's stock hike comes as other test vendors are enjoying increasing product demand and financial health as a result of specific industry trends (see Fiber Access Relieves Test Firms).

— Ray Le Maistre, International News Editor, Light Reading