Capacity on international Internet connections didn't grow as dramatically in 2002 as in previous years, according to a recent report from TeleGeography Inc.

The firm's figures show capacity assigned to links that carry Internet traffic across national borders grew about 38 percent from 2001 to 2002, compared with 174 percent growth between 2000 and 2001.

Of course, Internet traffic is a controversial and complicated issue. TeleGeography hasn't measured the actual volume of traffic over international Internet links. It's also not counting Internet links that handle domestic traffic within particular countries -- at least, not in this report. Instead, the firm has calculated the amount of bandwidth assigned by carriers to specific cross-border connections, then grouped the results by region.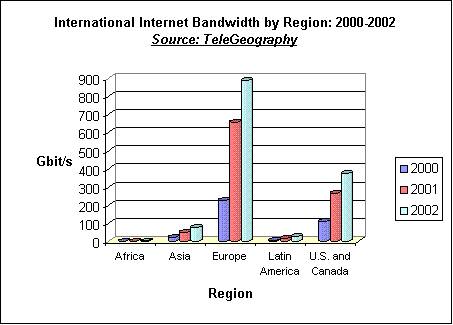 Europe is where the capacity slowdown is greatest. Growth of Internet capacity in Europe fell from 191 percent (between 2000 and 2001) to 35 percent (between 2001 and 2002). This is significant, TeleGeography asserts, since 82 percent of the world's cross-border Internet bandwidth is located in Europe, thanks to the region's closely knit economic structure.

The largest increase in growth happened in Latin America, which reported a 65 percent increase in capacity this year. But that figure is down considerably from the 471 percent capacity growth reported for the region the previous year.

TeleGeography attributes the slowdown to a more "conservative approach to deployments of new capacity." Cash-strapped carriers aren't building like they used to. Some are actually reducing capacity on some links in order to make their networks better tailored and more efficient.

The firm says a reduction in capacity doesn't necessarily correlate with a drop in demand. "If you look at capacity as a proxy for demand for lit bandwidth, then I guess you'd say demand is slowing. But I don't think that's the real story," says Alan Mauldin, senior research analyst at TeleGeography.

He says the new growth figures need to be viewed in light of the rapid buildout that took place two years ago, often reflecting brand-new facilities where none existed before. Now, carriers in Europe and elsewhere are focused less on provisioning bandwidth than on managing what they've got.

Another factor in the mix is carrier consolidation. The closing of facilities by Energis, KPNQwest, Teleglobe, and others has taken a substantial chunk out of Internet capacity, Mauldin says. KPNQwest alone shut down 192 Gbit/s of international Internet capacity, he says.

Despite the general slowdown, the world's ranking of top international Internet links is still intact: The largest is the London-to-New York route, with 97-Gbit/s capacity, which grew 24 percent last year. London-to-Paris is second, at 65 Gbit/s; and Frankfurt-to-Paris comes third, at 61 Gbit/s.

— Mary Jander, Senior Editor, Light Reading
www.lightreading.com