Intel Corp. (Nasdaq: INTC) is gearing up to launch a widely-tunable laser based on the technology it acquired from New Focus Inc. (Nasdaq: NUFO). The new product will be demonstrated at the OFC Conference in March.

Such a device is expected to be used initially for sparing. Sparing is an application in which a tunable laser can be used in backup line cards to replace any wavelength in a DWDM system.

The tunable laser is based on an external cavity design that offers 20 mW of power across a tuning range of 40 nm -- wide enough to tune to any channel in the entire C-band (1525nm to 1565nm wavelength) with a single device.

New Focus never disclosed how its device tuned, or any other technical details. Nevertheless, it appears that Intel has made some changes to the original design. The laser it plans to launch in March does not contain moving parts, in contrast to the device described by New Focus (see New Focus, New Laser). Instead, the laser contains what Intel describes in the following diagram as a "thermal tuner." Intel would not comment further on its technology.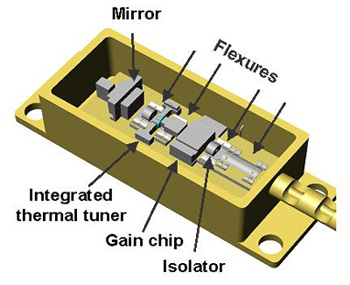 Over the past couple of years, Intel has gathered together a veritable warehouse of laser technology. Not only did it buy the tunable laser business from New Focus, it snapped up the assets of Sparkolor, which was also developing tunable lasers (see Intel Buys Sparkolor's Assets). In addition, it has released a narrowband tunable laser, with a limited tuning range.

Intel says it buys the laser chips, then assembles the modules in-house using technology from LightLogic, yet another company that it acquired in 2001 (see Intel's 10-Gig Shopping Spree). Indeed, the company's PowerPoint literature boasts that the tunable laser represents "The best of New Focus and LightLogic technology combined."

Gary Wiseman, director of marketing at Intel's optical platform division and VP of marketing for LightLogic, claims that the packaging and assembly technologies will allow Intel to offer a product at a much lower price than competitors -- although we'll have to wait to find out if that's actually true. Product launch is slated for the end of 2003 or early 2004. "Our first implementation will be in a tunable, 10-Gbit/s transponder with target availability at the end of 2003/early 2004," he says.

Intel may have got the timing right. The market for tunable lasers has been dormant up to now, but vendors in the field are confident that things are about to pick up. "In two years' time, every laser will be tunable," contends James Regan, managing director, Europe, for competitor Agility Communications Inc.. He says this confidence comes from talking with systems vendors and their service provider customers, who are serious about having tunable lasers on their roadmaps.

More detailed information on the market and prospects for tunable lasers is available in Light Reading's new report: Tunable Lasers Revisited.

— Pauline Rigby, Senior Editor, Light Reading