Indosat Ooredoo Hutchison reflects on its transformation journey accelerate Indonesia Digital Transformation

Comment (0)
At Digital Transformation World 2022 the CEO of Indosat Ooredoo Huchison (IOH) stressed the importance of digital transformation in his company's evolution.
IOH was created when Indosat Ooredoo and H3i completed their merger at the start of this year. It immediately became Indonesia's second largest mobile operator with almost 100 million subscribers. For such a huge market, Indonesia sometimes doesn't get the attention it should in other parts of the world, so it was good to hear from IOH CEO Vikram Sinha, who spoke to media at the event.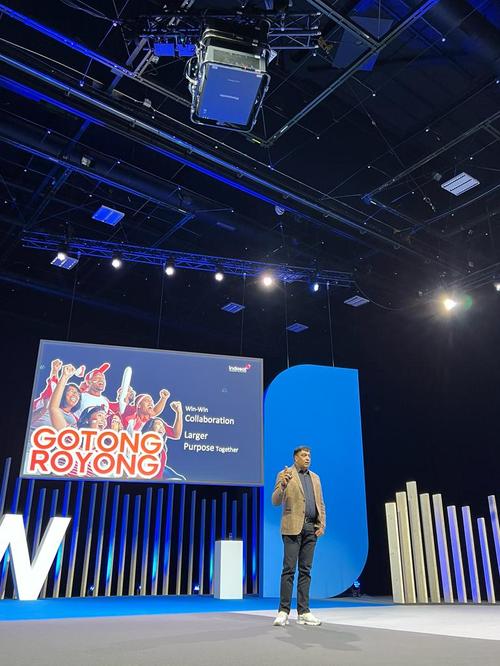 "IOH was born with a purpose to connect and empower every Indonesian," said Sinha. "And there's only one way to achieve this through the power of collaboration, or in Indonesia, we call it Gotong Royong, a win-win collaboration spirit to reach a larger purpose together.
"At IOH, I encourage the entire management team and our employees to think big and maximize Indonesia's potential, stay focused on building and growing customer trust through strengthening our core business, and continue enabling and empowering communities."
Indonesia is the world's fourth biggest country by population, with a mobile subscriber base in excess of a quarter of a billion. It currently has the world's 17th biggest GDP but that's forecast to rise to 10th by 2030 and 4th by 2045. IOH considers itself to be a key player in tapping that enormous potential and positioning Indonesia as the next digital powerhouse.
We asked Sinha about his vision for IOH. "One of our key guiding principles is to give priority on customer experience over cost," he said. "I've been in the industry for 20 years and I have to acknowledge that we have not been good at building customer trust. So how do we do it differently? How do I treat every customer and how do I build that trust? Make your pricing very transparent and simple and let go of any toxic revenue. So I think we are very, very focused on ensuring that we build trust we give our customers a marvellous experience."
One of the reasons the telecoms industry may have faced challenges in maintaining a high level of trust with the market could have been its legacy billing systems and procedures. An example of the kind of toxic revenue Sinha referred to is bill shock, especially as a result of roaming. So this is where the kinds of technological and cultural changes associated with digital transformation can have a very positive effect.
"Overall, under the theme of digital transformation, there's a lot which is happening but if I have to pick up one or two big things, the biggest for me will be the culture and the policy which we need to change in the organisation to support basically transformation," said Sinha, when we asked about IOH's digital transformation journey. "For me that has been the biggest learning."
That matches a major underlying theme of this year's event, which revolves around the acceptance across all parts of the telecoms industry that digital transformation is as much a cultural as a technological process. The creation of a new CSP, albeit from a merger in the case of IOH, is the perfect opportunity to introduce a cultural inflection point and redefine the way things are done across the whole organisation.
As the GDP forecasts above indicate, broader market environment in Indonesia is also transforming rapidly. The country seems to be embarking on the kind of rapid growth development journey we have seen from other Asian countries in the past decade or two, so IOH will need to be as agile as possible to meet demand and make the most of the opportunities that growth will offer.
"It's amazing the kind of potential, the kind of upside, and the kind of vibrancy we have in Indonesia, concluded Sinha. "Look, we have challenges, but there is so much of positivity and optimism and there is so much of hunger and eagerness to work together."
Indonesia doesn't get the attention such a large and rapidly developing country deserves , but it's clear that Indonesia will increasingly be spoken about in the same context. With its emphasis on digital transformation in order to offer the best possible customer experience, IOH seems very well positioned to make the most of the many opportunities presented by such a vibrant market.
To learn more about Indosat Ooredoo Huchison, please click here.
This content is sponsored by Indosat Ooredoo Hutchison.