Next week Hutchison Whampoa Ltd. (Hong Kong: 0013; Pink Sheets: HUWHY) will launch the first 3G handset from its new mobile device subsidiary INQ Mobile in the U.K. and Australia. (See Hutch Makes 3G Phones.)

The device, which aspires to be a mobile social networking device for the masses, has been dubbed the Facebook phone because of the social networking applications that have been integrated into it. Hutchison's own 3 Group operators will be first to carry the devices in those two markets in time for the holiday season.

The new kid on the handset block wants to produce "low-cost social mobile" devices that make applications like Facebook as easy to use as SMS texting, INQ Mobile chief executive Frank Meehan tells Unstrung.

Ultimately, the goal of offering cheaper 3G devices is to get more consumers using mobile data.

"For 85 percent of our customers, we can't really sell more than voice and text," he says. "You need to drive data usage higher right across all the handset segments. You want the majority of customers, not the top-end of the community that rules strategy at the moment."

The key to that is cheaper phones. Meehan claims that the INQ phones will cost operators $200, which is two to three times less than what "your average smartphone" costs them. In the U.S., he reckons the INQ phone would sell for $50 on a contract.

AT&T Inc. (NYSE: T) is a prime example of how handset subsidies on high-end handsets like the iPhone can damage an operator's margins. (See iPhone Hits AT&T Margins and Wireless Boosts AT&T in Q3.)

"I have a very low cost base," says Meehan. "We managed to do this with 60 people."

More details will be released at the launch next week, but Meehan explains that the INQ phone, which will be co-branded with mobile operator 3, integrates instant messaging, email, Skype, and Facebook.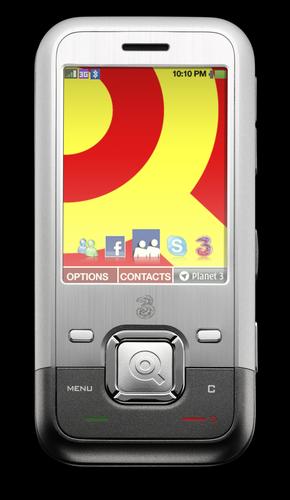 Meehan says that INQ worked closely with Facebook to develop the handset and that the integration goes beyond what the social networking company has done with other devices like BlackBerry 's Blackberry. (See Facebook (Geezer Edition) and CTIA: Creating the Next YouTube.)

INQ's Facebook application is client-based and is always on in the background so that users can get updates from their Facebook friends. "So Facebook becomes like SMS and can be used in the same way as SMS," he says.

Bad market timing?
Given the general economic slowdown and that growth in handset shipments has slowed to its lowest level since 2002, according to Michael O'Brien, director of credit ratings at Standard & Poor's , now might not look like the best time to launch a new mobile handset business.

INQ, naturally, thinks otherwise. "We think the timing is perfect," says Meehan. "This is what Hutchison as a conglomerate does. It goes into markets that look saturated and in trouble."

Even though Meehan claims INQ isn't competing with the likes of RIM, Apple Inc. (Nasdaq: AAPL), or any of Google (Nasdaq: GOOG)'s Android-based devices, INQ's moves won't escape their notice.

INQ plans to launch up to five more devices next year and hopes to get operators other than 3 to sell them. Mobile operator 3 already has some experience with developing its own phone with the Skypephone that it launched last year. (See 3 Launches Skypephone.)

But the Skypephone has not been successful in terms of getting any other operators to carry the device. It is only offered by 3, which so far has sold 300,000.

Meehan, who worked on the Skypephone, says operators were put off by the Skype application. The INQ phones will be different, he claims, because they integrate instant messaging, email, and social networking applications, as well as Skype.

"For now, operators have waited to see if the phone works," he says. "It's insanely ambitious and they want to see if it works."

— Michelle Donegan, European Editor, Unstrung