At Interop 2022, the largest ICT exhibition in Japan, Huawei's datacom product NetEngine 8000 M4 won the Runners-up for Best of Show Award in the network infrastructure category. The product was praised by the Interop Tokyo Steering Committee for providing high overall performance in addition to SRv6 and 10GE FlexE physical slicing capabilities. Developed for carrier networks, this product will facilitate edge computing.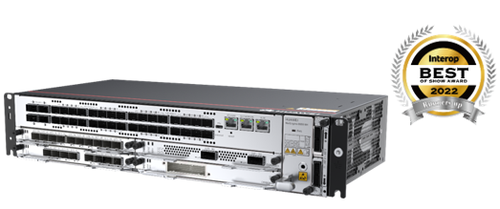 With powerful software and hardware capabilities, the NetEngine 8000 M4 is another highly compact universal service router developed after the NetEngine 8000 M14 and NetEngine 8000 M8 for FMC, mini BNG gateway, intelligent cloud-network, BBU co-deployment, and other scenarios. It offers a forwarding capability of up to 1.2 Tbps in a chassis measuring only 2U high and 220 mm deep, significantly faster than similar devices twice its size in the industry.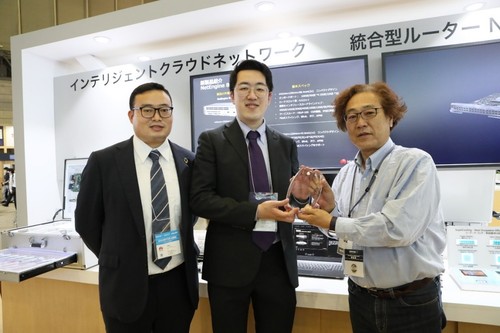 The ecosystem of applications such as AR/VR, 4K/8K video, autonomous driving, and industrial networks is continuously improving. While this brings superior experience to users, it also poses higher requirements on networks. The traditional network architecture is constantly evolving. DCs and user access gateways that carry content need to be moved closer to users to achieve lower latency and better user experience, posing new challenges to edge network devices. In addition, traditional CO equipment rooms have limited space and power supply capabilities and involve high rental costs. MEC construction further adds to the pressure of CO equipment rooms, giving rise to the need for network devices with smaller footprints and multi-service transport capabilities. The NetEngine 8000 M4 is designed with fixed ports and four FPICs. It has the most abundant PIC series in the industry, capable of providing E1 to 400GE interfaces. As such, it meets the port type and quantity requirements in different scenarios and provides the optimal TCO solution for operators. In addition, its BNG + SR + CGN + IPsec 4-in-1 feature meets operators' requirements for converged transport of services. It not only provides ultra-broadband access for users, but also eliminates the need for independent CGN and IPsec devices. Compared with traditional dedicated chassis-shaped service routers, this solution not only meets edge access service requirements, but also significantly lowers the space and power supply requirements of devices, enabling operators to achieve major savings in terms of network construction CAPEX.
The NetEngine 8000 M4 is a new member to the intelligent cloud-network infrastructure. It provides powerful features such as SRv6, slicing, IFIT, and APN6 to help operator networks continuously evolve to IPv6 Enhanced. Huawei has been continuously investing in fields such as product R&D and protocol standardization to help operators build leading intelligent IP networks, so that they can achieve business success.
This content is sponsored by Huawei.