Huawei Unveils the F5G Premium All-Optical Network, Enabling ISPs to Stride into the High-Growth Era
Partner Perspectives
Huawei
4/25/2023
At Huawei Global Internet Service Industry Summit & Global Optical Summit, Gu Yunbo, President of the Huawei's Enterprise Optical Business Domain, delivered a keynote speech titled "F5G Premium All-Optical Network, Striding into the High-Growth Era ". In his speech, Mr. Gu elaborated on how Huawei's F5G-based premium all-optical network solutions help global Internet service providers (ISPs) enter the era of rapid growth.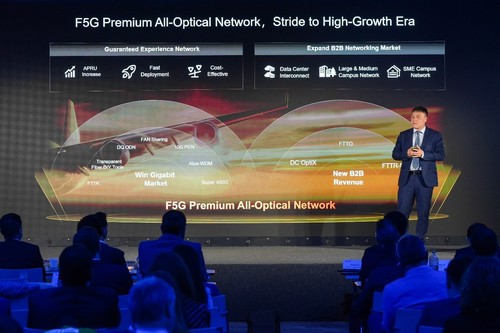 Global ISPs are accelerating their transition to optical fibers, with more than half launching optical fiber-based gigabit or even 10G services. In the gigabit era, ISPs must meet several key elements to win the market and realize new revenue growth: build a network that guarantees a gigabit experience while achieving increased average revenue per user (ARPU), faster deployment, and cost efficiency, on the other hand, leverage fiber capabilities to enter the B2B market and generate new revenue from enterprise network services.
Gu Yunbo said, "Huawei launched the F5G premium all-optical network solution, including seven sub-solutions in the B2H field and three sub-solutions in the B2B field, to help ISPs build networks with guaranteed user experience and achieve continuous growth."
F5G Premium All-Optical Network, E2E Guaranteed Gigabit Experience
FTTR: Based on Huawei OptiXstar F30, the FTTR solution supports 2 Gbit/s ultimate Wi-Fi speed and 17 Wi-Fi hotspots. It also supports 100% ultimate coverage, seamless roaming, and 128 concurrent connections. Compared with FTTH, FTTR can promote the sales of Gigabit services and bring revenue from FTTR networking, professional services, and smart home service.
Transparent Fiber DIY Tools: Huawei developed the industry's first Transparent Fiber DIY Tool set which simplifies home connection cabling and is easier to deploy than network cables. With the Transparent Fiber DIY Tools, users can finish cabling within 20 minutes for one room, and within one day for one apartment.
DQ ODN: Huawei's Digital QuickODN solution provides pre-connection and digital capabilities. QuickConnect cables and closures can be directly connected without any professional skills, and the ODN can be installed in parallel segment by segment. With unique ultra-low insertion loss QuickConnect technology, it increases the coverage distance by 3 km in each segment compared with the industry. All these benefits improve the ODN deployment efficiency by three times, and increase the one-time provision success rate by 30%.
Ubiquitous 10G PON: Huawei's all-scenario 10G PON solution includes three sub-solutions — Flex-PON+, Wi-Fi 6+, and XGS-PON Bridge GW — helping customers smoothly upgrade to 10G PON without changing the ODN or adding new sites. It is also ready for 50G PON for the future.
FAN Sharing: Huawei's FAN Sharing solution changes wholesale mode from sharing only ODN fibers to sharing the whole access network. All the NMS, PON ports and ONT can be used for sharing. The hard pipe isolation technology ensures that the services for different ISPs do not affect each other. So, for the wholesaler, the fiber utilization is enhanced and the revenue can be increased through value-added services, helping to improve the ROI by 60%. For the retailer, the device deployment time can be shortened, which reduces TTM by 70%.
OptiX Alps-WDM: Huawei developed the OptiX Alps-WDM solution, to help ISPs build affordable and scalable Metro WDM network, which has the benefits of simplified architecture, extreme experience, and optimal TCO. "Alps" refers to four concepts: Agile, Long-term evolution, Pooling, and Simplified. It can meet ISPs' requirements for developing B2C, B2H, and B2B services.
Super 400G: Huawei 400G OTN solutions supports various application scenarios, such as ultra-high performance, ultra-high integration, and ultra-large capacity, achieving the optimal transmission cost per bit, power consumption, and transmission distance on backbone and metro networks.
F5G to Business Series Solutions Providing Differentiated Competitiveness for ISPs
Based on 30 years of technical accumulation, Huawei has developed a series of F5G to Business solutions, to provide differentiated competitiveness for ISPs.
DC OptiX: In data center interconnection scenarios, Huawei DC OptiX solution and flagship product OptiXtrans DC908 provide ultra-broadband, simplified, and intelligent all-optical connections between data centers.
FTTO: In large and medium-sized enterprise campus network scenarios, the Huawei FTTO solution replaces copper cables with fibers, and replaces Ethernet with passive optical LAN (POL), bringing tremendous advantages in transmission media, network architecture, and O&M.
FTTR-B: In small-sized campus network scenarios, the Huawei FTTR-B solution reuses the optical distribution network (ODN) of an ISP to extend fibers to each office room, achieving ubiquitous 2 Gbps coverage. The solution supports 32 Wi-Fi hotspots, 300 concurrent connections, and seamless roaming within 50ms.
"F in F5G means Fixed, Fiber, and Future." At the end of his speech, Mr. Gu said, in the Gigabit era, Huawei is willing to light up the B2H and B2B dual-engine growth models of ISPs, striding into the High-Growth Era.
To learn more about Huawei's latest technologies and solutions in the ISP and optical network fields, please visit: https://e.huawei.com/en/solutions/enterprise-optical-network
This content is sponsored by Huawei.