Recently at the 9th Huawei Optical Innovation Forum, Huawei released the new vision of optical transport network: λ to Everywhere, Premium Connectivity Lighting up the Digital World. The new vision stresses bringing the optical transport network (OTN) everywhere to provide ubiquitous premium connectivity and enables operators to monetize the network capability through new products and services while boosting their green credentials and lowering TCO.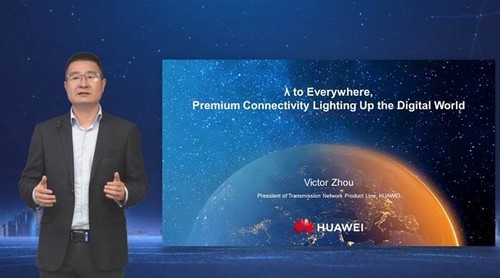 The vision includes three key messages:

Premium Connectivity: Private line Market is booming now when industry digitalization is accelerating. High committed bandwidth, low guaranteed latency, high reliability, and Fast TTM (Time to Market) are their key requirements. For CSPs, Creating Differentiated Competitiveness is the key to winning this emerging market. With the characteristic of natively supporting Premium Connectivity, OTN can better meet the demand of the enterprise market.
Green and Simplified Architecture: the OTN works in lay0 and lay1, it is more energy-saving and has lower latency than lay2 and lay3 technologies. The service can be transported to the cloud by only one hop in the OTN network with a bypass mode. Power consumption can be saved and the latency is ultra-low and deterministic.
Ultra-Broadband: OTN network could provide almost unlimited bandwidth to meet the traffic boom. The current threshold could achieve 32T/Fiber (400G*80λ) and will upgrade to 100T/fiber in the future.

Backbone: To meet the traffic boom, Huawei has launched two versions of 400G: the Green& Compact 400G for the regional and metro scenario, and the high-performance version for the ultra-long haul. Up to now, Huawei has deployed over 50 400G networks globally. For 800G, Huawei has deployed around 20 Commercial networks in France, Saudi Arabia, etc. Huawei has also completed the industry's first single-wavelength 1.6 T bit/s in Germany. Meanwhile, Huawei Continuously expands the available spectrum of optical fibers. Huawei announced the Super C+L solution, which can achieve 120 channels with 50GHz spacing in both C and L bands. Huawei has also upgraded its ASON solution to make it faster and smarter.
Metro: Green, simple and flexible are always key requirements for the metro. In 2018, Huawei has launched "OXC" and more than 3000 sets of OXC have been deployed globally since that. To address the metro scenarios, this year Huawei launched the blade OXC solution. The OXC series can help build an all-optical network base to implement end-to-end low-latency, low-carbon, ultra-broadband to enable the development of smart factories, and smart communities.
Edge: To match "λ to everywhere" vision, Huawei has launched the Edge OTN solution to help the operators to deploy the OTN to CO, to Cell sits, and to campus and buildings more conveniently. Edge OTN supports full services access from OLT, wireless networks, and enterprises. It has a specially designed X-Switch backplane + Y-Ponder + blade OXC in just a 2U box, greatly simplifying the deployment.
Business Growth: OTN premium private line market is developing rapidly. To build inclusive OTN premium private lines, Huawei has launched an innovative OTN P2MP (Point to Multi-Point) solution. It can help operators shorten the delivery time and reduce the cost of the private lines.
Huawei continues to invest in and provides the leading innovation in the optical domain. Victor Zhou, President of Huawei Transmission Network Product Line said "λ to everywhere vision will be the ideal choice for global operators who are looking to achieve an optimal TCO and business growth".
This content is sponsored by Huawei.