Huawei OptiX OSN 9800 Ranked as "Leader" with the Highest Score in Core Packet-Optical Platform by GlobalData
Partner Perspectives
Huawei
12/28/2022
Huawei OptiX OSN 9800 series has been ranked as a "Leader" with the highest score in Core Packet-Optical Platform by GlobalData in its latest report Core Packet-Optical Platform: Competitive Landscape Assessment, published in 2022. The overall competitiveness of Huawei OptiX OSN 9800 series is ahead of product class average in terms of line interfaces, switching capacity and features, port capacities, transport features, network management, and physical attributes.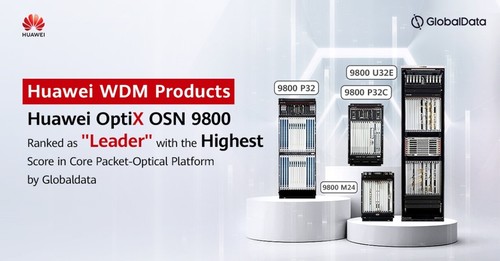 Huawei OptiX OSN 9800 series includes OptiX OSN 9800 U64E, U32E, M24, and P32/P32C. As large-capacity OTN devices oriented to backbone and metro networks, these products support unified switching of OTN, SDH, packet, and OSU services. Moreover, the Huawei OptiX OSN 9800 solution integrates all-optical cross-connect OXC and reconfigurable optical add/drop multiplexer (ROADM) to provide operators with OTN/WDM transmission solutions featuring ultra-broadband and flexible grooming as well as high elasticity and intelligence.
• Line interfaces: Huawei continuously invests in developing high-performance and energy-saving ultra-high-speed transmission modules, and has achieved full coverage of 100G–800G programmable line rates that support evolution to higher rates.
• Switching capacity and features: A single slot supports 1 Tbit/s and can evolve to even higher rates. The single-subrack switching capability is industry-leading, and can be expanded to over 200 Tbit/s by forming a cluster. Huawei OptiX OSN 9800 P32/P32C is the world's only large-scale commercial all-optical cross-connect OXC product for optical transmission, providing Pbit/s-level optical switching capacity per subrack.
• Port capacities: Huawei OptiX OSN 9800 series provides diverse ports and has the largest number of client-side service ports in the industry. It can flexibly process OTN, VC, packet, and optical service unit (OSU) services at switching granularities ranging from 2 Mbit/s to 100 Gbit/s, achieving unified access, switching, and transmission.
• Transport features: Based on the leading channel-matched shaping (CMS) algorithm, Huawei OptiX OSN 9800 series supports transmission over a standard span of 5000 km without electrical regeneration. Its spectrum covers Super C-band 120 wavelengths in 6 THz, and supports evolution to Super C+L band. A single fiber can provide up to 96 Tbit/s capacity, meeting capacity requirements for the next decade.
• Network management: Huawei OptiX OSN 9800 series utilizes the management, control, and analysis architecture design of iMaster NCE-T to implement unified grooming of cross-layer and cross-domain network resources and intelligent network management, supporting various apps and service innovations.
• Physical attributes: Huawei OptiX OSN 9800 series leverages multiple state-of-the-art energy-saving technologies, such as refined dynamic energy saving and intelligent warm backup, to provide the highest energy efficiency ratio in the industry. With the 32-degree grooming capability and unique optical backplane technology, Huawei OptiX OSN 9800 P32/P32C has a 90% smaller footprint and consumes 60% less power than traditional ROADM solutions.
Huawei OptiX OSN 9800 series is Huawei's flagship WDM product. It is applicable to integrated transmission scenarios such as home broadband, mobile bearer, enterprise private lines, and Data Center Interconnection (DCI). It provides the optimal E2E transmission solution for backbone and metro networks. Looking ahead, Huawei will continue to enhance technological innovation in optical transport solutions and work with global carriers to build future-oriented all-optical networks with optimal service experience and total cost of ownership (TCO).
This content is sponsored by Huawei.