Huawei Launches Next-Gen Indoor Mobile Broadband Solution, LampSite 3.0
Huawei launched its next-generation indoor mobile broadband solution, LampSite 3.0, at this year's Mobile World Congress (MWC) in Barcelona. This award-winning solution comes complete with a suite of groundbreaking features that drive digital transformation and more fully enable the indoor digital economy, including support for on-demand concurrence of multi-band, more flexible multi-carrier aggregation, distributed MIMO, and 256 QAM.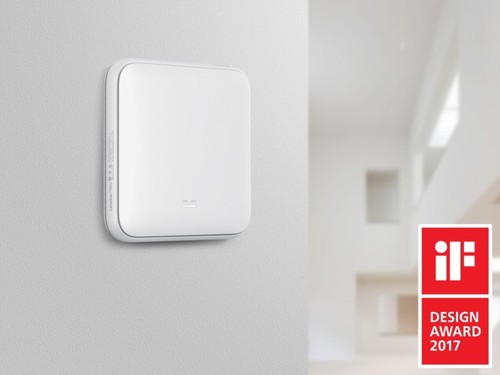 In the past three years, LampSite 1.0 and 2.0 have seen large-scale global deployment. With the development of 4G networks, more and more stadiums, transportation hubs, shopping malls, and exhibition halls have leveraged these solutions to make huge improvements in their indoor networks. Success stories are everywhere. The Beijing Capital Airport deployed more than 2,200 LampSites in three months, and within 24 months after deployment, mobile traffic grew by a factor of 67. In the Dubai Mall, the largest shopping mall in the world, LampSite enables per-user downlink speeds over 90Mbps, a record only broke by Singapore Marina Bay Sands Hotel, which uses LTE carrier aggregation technology to reach speeds of 251Mbps.
Additionally, LampSite was chosen by Fira Gran in MWC 2016 to upgrade its DAS network in Hall 1, Hall 3 and Hall 6. Even at peak times, attendees can stream and share HD video without a second's lag. Global carriers around the world have chosen LampSite to maximize their indoor broadband performance.
From LampSite 1.0 and 2.0, to today's 3.0, Huawei has set three key initiatives in its mission to enable the indoor digital economy, which will also help carriers and enterprises accelerate the pace of their digital transformation:
Build a Better Indoor Experience: With the rapid development of mobile Internet, a variety of new services continue to emerge, such as 4K video, AR and VR. Meanwhile, the demand for better user experience continues to grow. LampSite 3.0 breaks through a series of key RF technology bottlenecks to provide better indoor experience. By supporting multi-band concurrent signals, more flexible multi-carrier aggregation, distributed MIMO, 256 QAM and a host of other innovative technologies, LampSite 3.0 provides a solid user experience with speeds up to 2Gbps. Beyond speed, with dynamic capacity adjustment technology, it can easily cope with growth in traffic demand, enabling one-time deployment and long-term evolution. Compared to DAS, it can reduce cost per bit by 30% to 40%.
Activate the Industry Ecosystem: In most cases, installation requirements for indoor networks can be strict. Governments and building owners often require one-time deployment, a collective effort between multiple carriers. This places a lot of pressure on carriers to adopt more robust, future-proof solutions.
For the first time in the industry, LampSite 3.0 provides up to 240MHz full-bandwidth capabilities, which enables indoor digital networks to support multi-carrier sharing scenarios. Effective deployment of shared digital infrastructure like this involves greater collaboration between property owners and different industry players, but it also enables all parties to share in the digital dividends of the indoor economy. For example, this model gives enterprises, building owners and even investors the option to deploy indoor networks themselves, then lease them to operators, creating shared success across the entire industrial ecosystem. Best of all, when four carriers share the network, LampSite 3.0 leads to considerable cost savings, reducing TCO for each carrier by up to 70%.
Enable Business-to-Vertical (B2V) Opportunities: Powered by an open digital capability platform, the LampSite solution can provide accurate indoor location services. This enables carriers to surpass traditional B2C and B2B service boundaries with an immense range of vertical applications, such as intelligent shopping malls and intelligent airports. In addition to high-precision indoor cellular positioning, LampSite 3.0 enables indoor IoT, big data and other technological innovations, helping open doors to an endless array of B2V fields.
For the past three years, Huawei has been a strong proponent of indoor digitalization. By digitizing their pipeline, services, and operations, carriers can significantly enhance indoor network quality and user experience. Huawei's indoor digitalization solutions unleash data traffic potential in hotspots, shorten indoor network construction times, and reduce carrier maintenance costs. Perhaps most importantly, advanced indoor connectivity makes way for more open networks and value-added service innovation, leading to far superior return on investment in network construction.
"LampSite 3.0 is an important milestone in Huawei's wireless history," said Dr. Zhou Yuefeng, Chief Marketing Officer of Huawei Wireless Solution. "It's the product of years of innovation in indoor mobile broadband, designed to help carriers around the world quickly upgrade their indoor coverage infrastructure. In effect, LampSite transcends the boundaries of traditional mobile communications, opening network capabilities to more vertical industries, and giving the world's next generation of digital innovators the opportunity to share in the wealth of the indoor digital economy. It's really quite remarkable."
LampSite 3.0 solutions will be available globally in the second half of 2017.