As Video Becomes a Basic Service, Telecom Carriers Must Redefine Their Networks
The video business is growing faster than anyone could have imagined. In 2016, the number of IPTV users in China doubled to 110 million. And in more than three quarters of China's provinces they have the option of watching IPTV in 4K HD. Last year both YouTube and Facebook launched virtual reality (VR) services. When the Chinese pop star Faye Wong played a concert in December, more than 20 million people streamed it over the Internet or on VR. VR services are now very much part of the online video landscape. At the same time, voice over LTE (VoLTE) is becoming increasingly common, offering users HD video and audio services. Analytics firm IHS predicted that 2.3 billion people, or 80% of LTE users, will have access to VoLTE services by 2021. In addition to home entertainment, 170 million IP cameras will soon be connected to fixed or wireless networks, enhancing public safety by monitoring streets and property worldwide.
For more and more telecom carriers, video is now a basic service. Video services are offered in three use cases: entertainment, communications, and industry. But carriers' networks are fighting to keep pace with fast changes in the nature of the services, user behavior, and the underlying technologies. For example, to ensure a good user experience with 4K HD video or virtual reality, carriers need to deliver gigabit-level downlink speeds, and highly scalable networks. And for industry video, CCTV in particular, the huge numbers of HD and 4K HD cameras in service around the world demand uplink speeds of at least 50 megabit/s.
Networks built for video deliver the best video experience
Early mobile networks were created to carry voice traffic. The needs of voice dictated the 2G and PSTN standards. Later, the needs of data shaped 3G technology and IP networks. Video raises a whole new set of challenges. It demands low latency and high bandwidth; data flows are high, and traffic bursts are frequent. Carriers that make video a basic service must redefine their networks to adapt to the needs of this new medium, optimizing them to guarantee the best user experience.
What carriers need first is a low-cost, high-bandwidth network. It must enable gigabit connections to the home, gigabit access via any media, and a stripped-down three-layer architecture.
In addition, there are three other key areas to consider:
1. End-to-end operations & maintenance: Users are extremely sensitive to the quality of their video experience. Carriers must make the experience that they deliver manageable, predictable, and sustainable. To achieve this, carriers need a standardized system for measuring the quality of the video experience; a smart experience management platform that enables proactive O&M from end to end; and a cross-departmental team dedicated to optimizing end-to-end network performance and processes. With these three elements in place, carriers will be able to use their O&M tools and systems to quickly diagnose network issues, and cut the OPEX for their video business.
2. High-bandwidth uplink: Copper and 3G/4G access technologies cannot offer the same bandwidth for both uplink and downlink. They cannot meet backhaul demands of industry video services. At the present time FTTH is the primary answer to this problem, but if carriers want to meet all the different industry needs, they will have to use a broad portfolio of uplink solutions: 5G Wi-Fi, Sub-6 GHz P2MP Microwave, and eLTE.
3. Scalable networks: Live video broadcasts of popular events can drive sudden spikes in video demand which may undermine users' video experience. Under the old approach, expanding network capacity takes weeks. To cope with sudden surges in demand, networks must be able to scale up within seconds, requiring that they have great flexibility in capacity, scheduling, and data traffic control.
Capacity is delivered by an All-Cloud strategy. Network Function Cloudification (NFC) enables carriers to shift their content distribution networks (CDNs), session border controllers (SBCs), storage, computing, and other functions into the cloud. Therefore, they can flexibly scale up network elements and processing to handle the sudden spikes of video services.
Flexible scheduling is provided by an SDN network architecture, where southbound APIs connect the IP and optical layers, while northbound RESTful APIs expose network capabilities to services. This means with the synergies between IP, optical, and CDN, the network is able to flexibly schedule traffic. Routing can be much more flexibly handled based on bandwidth and latency needs, and idle network resources can be instantly mobilized to handle bursts of video traffic.
As for data traffic control, traditional QoS approaches cannot resolve the problem of data congestion when the demand for the same type of video soars. Networks need the capacity to control individual users and their data flows in order to effectively manage traffic and ensure that the users who are connected have a better video experience.
These challenges are only going to continue. Virtual reality, augmented reality, and holograms will become increasingly common, and they will demand even faster networks, with ultra-low latency. Huawei is always innovating in our services and our network solutions. We will help carriers build video networks that are cost-effective, high-bandwidth, and highly scalable, because we want to embrace the video era together with telecom carriers.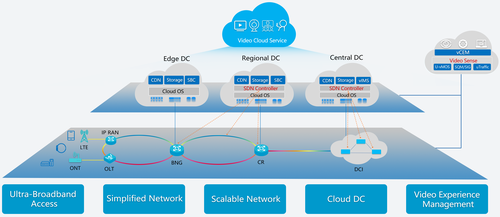 Video networks help carriers maintain a competitive edge in the ecosystem
Video services connect diverse content with diverse users, so they are inherently collaborative. They succeed when the ecosystem succeeds. Carriers have a unique strength, because their business is connecting users over ICT networks, but this alone is no guarantee of success. Carriers will need to leverage all their online-to-offline channels and operational strengths to build a bigger video ecosystem. They will have to offer upstream content providers new ways to monetize their content, and offer downstream users the best video experience. The carriers that succeed at this will play a pivotal role in the emerging video ecosystem. They will be the success story of the video era.
-- Ryan Ding is Executive Director of the Board and President of Products and Solutions at Huawei Technologies Co., Ltd.