NEW ORLEANS -- SCTE Cable-Tec Expo -- Hey, incumbent US cable CPE guys, you'd better brace yourself -- because heeeeeeere's Huawei Technologies Co. Ltd.

It's quite clear that the Chinese giant is poised to expand its cable home strategy beyond simple Digital Terminal Adapter (DTA) devices and into the realm of Docsis 3.0 modems and gateways, and tru2way set-tops.

Here at the show, Huawei displayed a cable customer premises equipment (CPE) smörgåsbord that clearly signaled its ambition to get more of its gear into US cable homes. It's a move that sends a very clear message to the likes of Motorola Inc. (NYSE: MOT), Cisco Systems Inc. (Nasdaq: CSCO), Technicolor (Euronext Paris: TCH; NYSE: TCH), Arris Group Inc. (Nasdaq: ARRS), and Pace plc , the main companies that stand to lose out if Huawei is successful.

On the Docsis end of the spectrum, Huawei has developed a Docsis 2.0 modem and a D3-based wideband model based on Broadcom Corp. (Nasdaq: BRCM) silicon that can bond eight downstream channels and four upstream channels.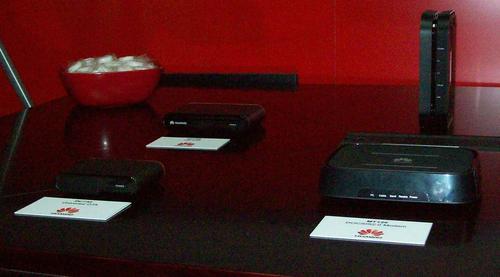 The D2 model is pretty much ready to go, and the company expects to launch the D3 version formally in the first quarter of 2011. Deming Zhou, Huawei's director of set-top box product sales for the North American region, said the company expects to introduce Docsis-based gateways and embedded multimedia terminal adapters (EMTAs, or voice modems) in the second quarter of next year.

Huawei cut its US cable CPE teeth on DTAs, including a "universal" version that can run on Motorola and Cisco cable networks. Its DTA strategy has already scored some business at Suddenlink Communications . (See Huawei DTAs Break In at Suddenlink .)

Now the vendor is hunting bigger MSO game with two tru2way models -- a high-definition (HD) box called the DC660, and a HD-DVR model dubbed the DC680. Those models, expected in mid-2011, will support Multimedia over Coax Alliance (MoCA) , Zhou said.





For the box's tru2way middleware stack, Huawei is starting off with the CableLabs "reference implementation," but is also considering working with Alticast Corp. (See CableLabs: 'Hundreds' Have Downloaded Tru2way Reference Stack.)

— Jeff Baumgartner, Site Editor, Light Reading Cable