Huawei [email protected] Solution, Enabler of Network Operations Digital Transformation

Mobile network operators are facing myriad of challenges; most revenues are either flat or trending downwards, while network investment is underperforming efficiency and lacks precision (capex and opex). Subscribers' network experience expectations are becoming more demanding just as the diversity of services is becoming even more complex. These make managing the network and service assurance even more difficult for the operator.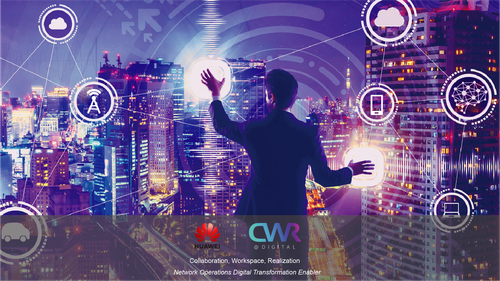 Network differentiation among the operators becomes much harder, thus operators need to focus on improvements in operational processes. It also requires putting priority and targets areas of high value for both planning, optimization and day to day operational actions. In addition to this, new digital services from OTT providers creates extra pressure on the ability for the operator to monetize its network.
The trend is expected to continue and be persistent in the years to come as massive data traffic growth, driven by increasing usage rate of popular Apps and new services require higher throughput speeds with lower latency (e.g., mobile videos and games). The launch of "Unlimited Package" offerings will also accelerate congestion within the network.
CWR is a solution that enables mobile network operations to be part of the overall Digital Transformation. It helps operators digitize end-to-end network planning and construction process, driving digital transformation of network operations with precise investment and value-oriented operations. The solution facilitates different department's alignment via a unified digital workspace. This creates a collaborative workspace between the business planning, network planning, procurement, network implementation, network optimization and operation departments. It provides solutions that are oriented to different business scenarios, such as 2G/3G-to-4G user migration, high-value user segment experience assurance and unlimited package development support which helps operators achieve business success. Over-all, it helps the mobile operator comprehensively improve its process efficiency, reduce OPEX and develop business opportunities.
To summarize the benefits for the operators: CWR can be involved in the CXO office of an operator whilst streamlining the "planning, construction, maintenance, optimization and operation" functions so that they support efficient collaboration among the operator's departments, improve service experience and achieve precise investment and value-driven operation.
(1) Efficient collaboration: Streamline the number of required platforms and data sources for planning, optimization, construction and other departments in order to shorten the network construction period for.
a. Long-term planning (new sites planning and deployment): six months to two months.
b. Short term [agile capacity expansion]: two months to one month.
(2) Experience improvement: Provide real-time insight data to support quick closure of network problems and thereby improve user experience.
(3) Precise investment: Drive network construction based on services and experience, convert the investment and construction mode resulting in much improved precision and timing.
(4) Marketing efficiency improvement: Based on OSS+BSS data convergence, enable channel efficiency, user development and customer value improvement.
CWR reference case (Operator X in Asia): the solution strongly contributed to the operator's revenue and profit improvement through focused network investment effectiveness and efficiency allowing for faster Go-to-Market capability from automation, AI enabled automation that simplified Network Operations.
CWR has been attracting considerable interest from operators and has been piloted and deployed by several dozens of operators globally. One of the newly available features is the 5G precise investment definition based on value-model composed of different factors like hotspot areas, high-value segments (user, terminal, location etc.), high-end services (VR/AR) and Mobile WiFi user. The operator can then focus and prioritize its 5G investment and deployment plans.
The operators' ability to smartly compete with its competitors while simultaneously being more efficient and effective will be of paramount importance to differentiate its offering. CWR is a solution that enables mobile network operations to Digital Transform its operations to proactively react to its future challenges.
This blog is sponsored by Huawei.

(0) |